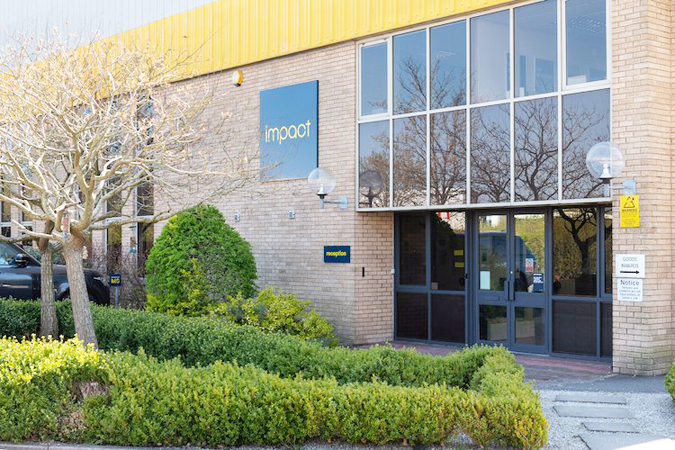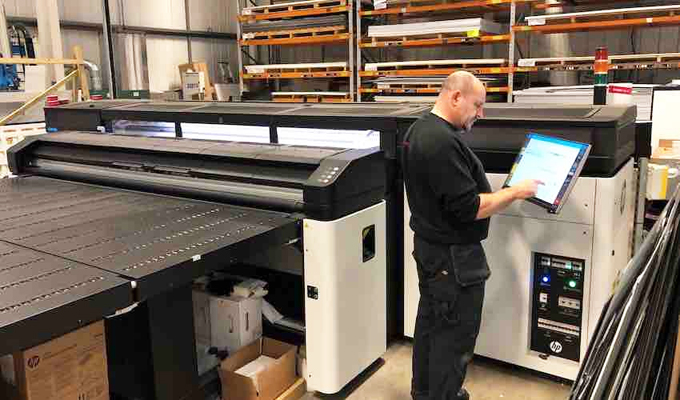 Following a period concentrating on COVID-focused applications, Designs Signage Solutions has been running its HP Latex R2000 Plus printing solution day and night to produce sports-related graphics
在专注于以疫情标牌为重点产品的一段时间后,创意标识公司(Designs Signage Solutions,以下简称DSS)一直在昼夜运行其HP Latex R2000 Plus打印机,以生产与体育赛事相关的图形。
Designs Signage Solutions says it expanded with new customers throughout 2020 - in spite of the COVID-19 pandemic - and completed a number of colourful graphics projects using its HP Latex R2000 Plus printer.
DSS表示,尽管出现新冠疫情这一严峻情况,但该公司整个2020年仍在扩大新客户,并使用其HP Latex R2000 Plus打印机完成了许多彩色图形项目。
Known for its signage and branding expertise in the sports sector, in particular for sports venues, Designs Signage Solutions was affected by the abrupt pause in business and government restrictions as a result of coronavirus. Reacting quickly, it adapted its factory in Hull to produce social distancing signage and PPE equipment such as counter protector screens and sanitiser stations.
DSS一直以来都凭借其在体育赛事领域,尤其是面对运动场馆时,所展现的标牌和品牌专业知识而闻名。虽然这家公司也收到新冠疫情所导致的商业和政府隔离突然中断业务的影响,但好在其反应迅速,立刻调整了位于赫尔的工厂,转而生产社交隔离标牌和个人防护设备,例如柜台保护罩和消毒站点。
However, the team was soon back working on sports stadium branding, chalking up high quality graphics on its HP Latex R2000 Plus. Installed by Papergraphics in 2019, the printer is a hybrid solution designed to deliver exceptional printing on an extensive range of substrates, both rigid and flexible, while offering sustainability benefits.
并且,DSS团队很快又恢复了体育馆标识制作的工作,通过其HP Latex R2000 Plus绘制高质量的图形。这台打印机是在2019年由经销商PaperGraphics安装,是一台多功能印刷机器,专精于在各种刚性和柔性承印物上提供出色的印刷效果,同时具有可持续性优势。
"The water-based inks used on HP Latex printers are better for the environment, better for people, and better for disposal, which are all big ticks for us," said Rob Daysley, Managing Director of Designs Signage Solutions, following its installation. The ecological benefits of HP Latex "do not in any way compromise performance, quality or price," he added.
DSS常务董事罗伯·戴斯利说道:"HP Latex打印机上使用的水性油墨对环境更有利,对人更有利,并且更易于处理,这些问题在之前对我们而言都是不小的麻烦。"此外他还补充了一点,就是HP Latex的生态效益"丝毫不影响性能、质量与价格。"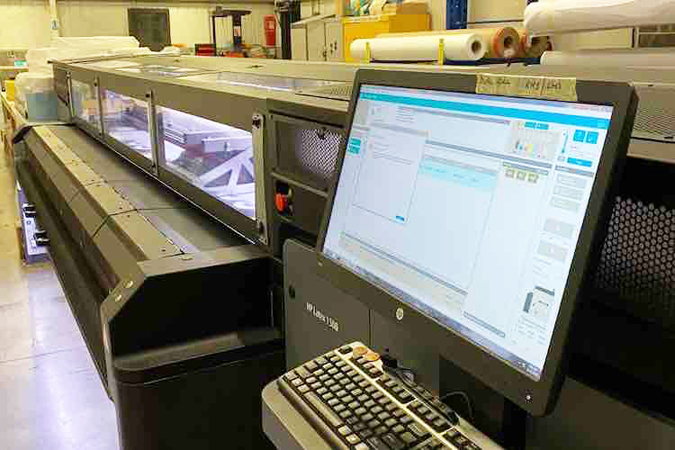 These advantages have been demonstrated with a host of new graphics projects, including preparing AFC Wimbledon's new home ground with 26 5,000 x 900mm temporary banners, turned around in two working days, and re-branding the mid-tier sections of the Leeds United stadium, Elland Road. Designs Signage Solutions printed the graphics directly onto flat aluminium composite boards, spanning the full length of the stands, using the HP Latex R2000 Plus.
这些优势已经在许多新图形项目中得到了证明,包括:为AFC温布尔登的新主场准备26面5000mm*900mm的临时横幅,仅用两个工作日就完成了周转;并对艾兰路利兹联合球场的中层部分进行品牌重塑。通过使用HP Latex R2000 Plus,DSS现在可以将图形直接打印在整个展台的平面铝复合板上。
Designs Signage Solutions also worked day and night to produce and install promotional branding for the Championship League Snooker Tournament in Milton Keynes. The printroom team created LED lightboxes, combining an opal acrylic and printed vinyl, along with complementary printed signage and media backdrops with a tensioned fabric system. Closer to home, Designs has printed and installed hoarding graphics at the Beverley Road Baths Development in Hull, ahead of people getting back into the pool. These bold and outdoor-durable hoardings were also printed directly on the HP Latex.
DSS还昼夜不停地为即将在米尔顿凯恩斯举办的斯诺克冠军锦标赛制作和安装推广标牌。印刷团队则创建了特别的LED灯箱——将蛋白石色亚克力和乙烯基印刷材料与互补的印刷标牌和媒体背景与紧绷的织物系统相结合。
言归正传,DSS已经为赫尔的贝弗利路浴场公司打印并安装了围板图形标识,其后人们很快回到了游泳池···这些大胆的、户外耐用型的围板也都直接通过HP Latex来进行打印。
The Yorkshire business, founded 27 years ago, is a specialist in vehicle graphics, commercial, retail and education signage, and high-end interior displays besides its extensive work in the sports branding market. It uses a total of four HP Latex printers to meet the demands of its wide variety of customers.
DSS位于约克郡的分店早在27年前就已经成立,除了在体育赛事品牌市场中开展广泛的工作外,还是汽车图形。商业、零售和教育标牌已经高端室内展具方面的专家。它总共使用4台HP Latex打印机来满足其众多客户的需求。
Ahearn Signs

&

Fujifilm Acuity

FUJIFILM North America Corporation, Graphic Systems Division is pleased to announce the installation of the wide format flatbed press at Ahearn Signs, a Belleville, Michigan printer focused primarily on signage for car washes, convenience stores, and gas stations. This second Acuity press installation now provides a wider variety of printed signage that has increased business with existing customers in addition to adding new customers because of enhanced capabilities.
FUJIFILM北美公司图形系统事业部非常高兴地宣布了这样一条新闻:位于密歇根州贝尔维尔的埃亨标识公司印刷厂安装了宽幅平板印刷机。
埃亨标识主要从事洗车店、便利店和加油站的标牌制作,但是借助最近安装的第二台Acuity打印机,现在又新增了更多种类的印刷标牌产品。新的打印机不仅帮助埃亨标识增强打印能力从而增加新客户,它还助力与现有客户业务的深化合作。
As these types of businesses continue to evolve their marketing efforts, unique and eye-catching signage and display materials are a frequent request. As a result of this constant demand, a need arose for a second wide format signage printing solution at Ahearn Signs. The addition of the second Acuity flatbed printer has allowed Ahearn Signs to set themselves apart and ahead of their competition by providing the solutions their customers need in a "one-stop shop" model.
随着这些类型的企业持续发展其营销模式,经常需要独特且引人注目的标牌和展示材料。这种持续的需求为埃亨标识激发了第二种宽幅标牌印刷解决方案。第二台Acuity平板打印机的加入使埃亨标识通过以"一站式"模式提供客户所需的解决方案,从而在市场竞争中脱颖而出。
A specific need of Ahearn Signs was to have the ability to easily print on flexible substrates that would be both durable and flexible enough to work inside the car wash tunnels. "The Acuity allows us to be much more efficient from not only a speed perspective, but a cost perspective as well," said Dominic Ahearn, owner of Ahearn Signs. The signage Ahearn creates also includes decals for point-of-sale displays, gas pump signage, vinyl banners, in-store floor and window decals/clings, all on a variety of substrates and all printed by the Acuity press.
埃亨标识对于打印机的特殊需求是:能够轻松地在柔性基材上打印,这种类型的基材既耐用且柔韧性好,可以在洗车隧道内使用。埃亨标识的所有者多米尼克·埃亨表示:"从速度的角度和成本的角度来看,Acuity打印机都使我们的效率更高。"
埃亨标识创建的标牌产品还包括用于销售点展示的贴花纸、加油站标牌、乙烯基横幅、店内地面和窗户的贴花与包装纸,他们都贴在各种基材上,并且全部由Acuity打印机印刷。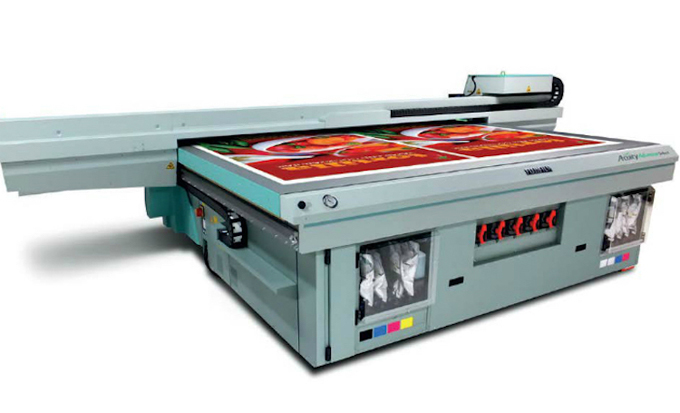 Adding the Acuity HS X36 gave them the opportunity to print directly on 5ft. x 10ft. substrates. Previously they had to print on solvent materials, laminate, and then mount to a substrate. Now, they can print directly to a variety of 5ft. x 10 ft. materials. "Serving the car wash industry, durability, quality and speed are critical in creating printed materials. Our Acuity HS X36 also includes the white print option, which has been in high demand from our customers, and has allowed us to create some really compelling work," Dominic said.
新添加的Acuity HS X36使得埃亨标识有能力直接在1.5m*3m的基材上直接打印,而以前他们必须先在溶剂材料上进行印刷、层压,然后才能安装到基材上。
"对于洗车行业来说,创建印刷材料时的耐用性、质量和速度至关重要。我们的Acuity HS X36还包括白色打印选项——这也是一直以来我们客户的强烈需求,当然我们自身也通过这项功能创作出一些真正引人注目的作品。"多米尼克说道。
Dominic chose the Acuity HS X36 wide format flatbed press not only for its convenience and capabilities, but the high quality was an additional main stand-out feature. "I love the simplicity of the machine," he said. "I love that it's a true flatbed that can handle edge-to-edge and double-sided printing and substrates of varying sizes with no problem, whether the job is a large exterior sign or a business card. The adhesion is great as well, with no customer concerns with chipping, which shows how durable the signage is that we're creating on these machines."
多米尼克之所以选择Acuity HS X36宽幅平板打印机,不仅是因为其便利性和多功能,也因为其主要的突出特点:高质量。他说:"我喜欢这款机器的简单性,它就是一款真正的平板打印机,无论所做的是大型外部标牌还是名片,都可以毫无问题地对各种尺寸的承印物进行边对边的双面打印。其油墨附着力也很好,我们的客户无需担心碎裂等情况的发生···这些都表明我们在这些机器上所制作标牌的一流耐用性。"
For more than 30 years, Ahearn Signs has utilized Fujifilm's Acuity line of flatbed presses to expand its client offerings by providing quality signage quickly. "We're always looking for cost effective ways to meet our customers' needs while never sacrificing quality," said Ahearn. "With our new Acuity presses, we were able to offer a wider variety of signage options to our customer base. We have earned several new customers as well who were impressed with the new breadth of capabilities we offer."
30多年来,埃亨标识利用Fujifilm的Acutiy平板打印机系列能够快速提供优质标牌的特性来扩展其客户范围。"我们一直在寻找经济高效同时又不会牺牲质量的方式来满足客户的需求。"埃亨说道,"借助我们的新型Acuity打印机,我们能够为客户群体提供更多的标牌选择。除此之外我们还赢得了一些新客户,这些新客户也对我们能够提供的新功能印象深刻。"
Graphicscalve

&

Fujifilm Acuity

Italian print business grows its visual communication department, investing in Fujifilm's Acuity LED 1600R, Acuity LED 3200R and Acuity Select.
位于意大利的一家印刷公司新增了视觉传达部门,因此投资引进了Fujifilm的Acuity LED 1600R,Acuity LED 3200R和Acuity Select。
Founded over 40 years ago as an artisan typography house, Graphicscalve - located in the Italian province of Bergamo - has transformed itself over the last few decades into an important player in the Italian graphics industry. The company produces a mix of litho and digital printing for its clients, who come from a wide variety of sectors from publishing to large-scale retail. To help grow its visual communication department, in February 2021 Graphicscalve invested in a new digital printing production facility to enable it to offer high quality interior design and visual marketing solutions. Key to this investment were two roll-to-roll and one flatbed printer from Fujifilm's Acuity range - the Acuity LED 1600R, Acuity LED 3200R and Acuity Select.
Graphicscalve成立于40年前,早期是一家手工艺印刷公司,位于意大利贝加莫省,在过去的几十年中已转型为意大利图形行业的重要参与者。该公司为大多来自出版业、大型零售业等各个领域的客户生产石版印刷和数字印刷的混合产品。为了帮助扩大其视觉传达部门,Graphicscalve 在2021年2月投资了新的数字印刷生产设备,使其能够提供高质量的室内设计和视觉营销解决方案。这项投资的关键就是Fujifilm Acuity系列的两台卷对卷和一台平板打印机,分别是:Acuity LED 1600R,Acuity LED 3200R和Acuity Select。
"We are engaged with multiple sectors and our mission in each is to provide high quality products at the best prices," say Ezio and Walter Ferrari, Owners at Graphicscalve. "Quality and precision are what we pride ourselves on and we can proudly say we can guarantee offset quality with all the advantages of digital printing."
"我们公司的多个部门通力合作,所承载的使命是:以最优惠的价格提供高质量的产品。"Graphicscalve的老板埃齐奥·法拉利与沃尔特·法拉利共同表示,"利用数字印刷的所有优势,确保胶印的质量。"
Graphicscalve's growth over its four-decade history has seen the company evolve into an innovative service provider that is attentive to change. "As we've expanded, we've learned more and more about what the print industry is looking for in a supplier," continues Ferrari. "We've increased our customer base because of this, which has enabled us to invest in the expansion of our facilities. We recently acquired a site in Costa di Mezzate - it's a massive space that will give us the platform to produce exciting new products such as photo panels, personalised wallpapers and totems.
Graphicscalve在过去四年的发展中已经成长为一家致力于变革的创新型服务供应商。"随着业务的扩展,我们已经越来越了解印刷业想要在供应商中寻找的东西。"法拉利继续说道,"因此,我们增加了客户基础,这使我们能够投资于扩展设施——最近位于科斯塔迪梅扎特的工厂已经被我们收购——这是一个巨大的空间,它将为我们提供场所去生产令人兴奋的新产品,例如图片面板、个性化壁纸和图腾。"
"We know that maintaining the standards in quality that the customers expect of us will require the most advanced equipment the print industry has to offer - that's why we're delighted to have three printers from Fujifilm's Acuity range at our new site. Each has different qualities that will help us to provide our customers with a 360o solution, no matter what their needs are."
"我们知道,要保持客户期望的质量标准,就需要印刷制造业能够不断提供最先进的设备——这就是为什么我们很高兴能够在新工厂增添三台Fujifilm Acuity系列打印机,每台打印机都有各自的不同之处,无论客户有什么需求,这些品质都将帮助我们为客户提供360°的解决方案。"
Ferrari singles out the key points that led to the investment. "We did a lot of market research to be sure we were investing in the very best. The strengths that attracted us to all three machines were the print quality and the performance - we also have people working at Graphicscalve who had previous knowledge of these printers and their capabilities.
法拉利还挑出了导致自己进行投资决定的几个关键点。"我们进行了大量的市场研究,以确保投资用在最佳的设备上。这三台机器最吸引我们的有事就是打印质量和性能——我们还有在Graphicscalve工作的员工们,他们对这些打印机及其能力都拥有较深的了解。
"When we look to acquire new equipment, we never look for a simple partner or a one-off solution. We always evaluate the potential of an investment and want to make sure it can grow with us as a business. The print market - when we look at recent times - is very unpredictable. Every company must look to improve its flexibility, dynamism, and attention to the environment in order to stay relevant and significant to its customer base. Fujifilm is a company very much attuned to our ethos and we're delighted to have them on board to help us grow - we were already aware of their excellence and appreciate them as a global player and leader in the industries in which they operate."
"当我们在寻求购买新设备时,我们永远不会去单纯的业务合作伙伴或者短期、一起次性的解决方案。我们一直都会对每一项投资的潜力进行评估,并希望确保这项投资可以随着我们业务的增长而增长。当我们着眼于近期的印刷市场,会发现其不可预测性。因此每一家公司都必须提高灵活性、动态性和对环境的关注度,以保持对自己对客户群的重要意义。Fujifilm是一家非常符合我们精神的公司,我们非常高兴能够邀请到他们进行合作,以帮助我们成长——我们现在已经意识到其产品的卓越表现,并真正领会他们何以能成为其业务所在行业的全球参与者和领导者。"
Ferrari is also keen to point out the helpfulness of Fujifilm's staff: "They offer a consistently high standard of customer service; they're always proactive and their support and technical skills are highly appreciated. We would recommend working with Fujifilm to everyone!"
法拉利还热切地指出Fujifilm员工的帮助:"他们为我们公司提供始终如一的高水准客户服务;他们总是积极进取,所带来的支持和技术技能应该受到高度赞扬。如果有机会,我们一定会向其他人推荐Fujifilm!"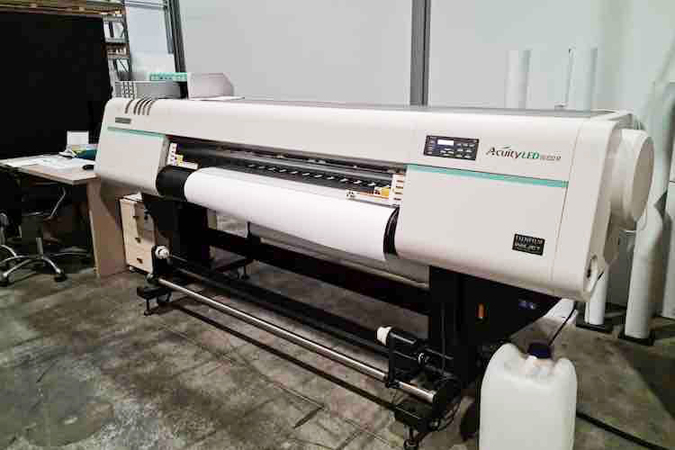 "Graphicscalve knows its customers and its markets very well and this knowledge has been key to their success as a business. We're delighted they've brought on board three of our Acuity printers to help grow their visual communications department and we look forward to working with them as they continue to grow."Paolo Zerbi, General Manager at Fujifilm Graphic Systems Italy
"Graphicscalve非常了解其客户和市场,而这些只是对于他们的业务成功至关重要。我们很高兴他们引进了三台Acuity打印机来帮会组他们扩大自己的视觉传达部门,并且我们希望在今后他们不断发展的过程中与他们达成持续的合作。"——Fujifilm图形系统公司意大利总经理,保罗·泽尔比。
Impact Retail

&

Onset X1 HS

Westley Allen, Print Manager at Impact Retail
Impact Retail印刷部门经理,韦斯特利·艾伦。
UK retail and shopper marketing agency upgrades from Onset X1 to the automated Onset X1 HS solution to further increase already impressive production speeds.
英国零售和购物营销代理机构从Onset X1升级到自动化的Onset X1 HS解决方案,以进一步提高自身已经令人印象深刻的生产速度。
A leader in the production of high quality, luxury retail displays for some of the world's leading brands, Leicester-based Impact Retail prides itself on a strategically-driven and creative mindset. Its 76-strong team includes designers and project managers who have helped many companies enhance their brands with striking visual displays.
总部位于莱斯特的Impact retail是为某些世界领先品牌生产高品质、豪华零售展架的行业领导者型企业,以战略驱动和创新的思维方式而自豪。一共76人的团队包括设计师和项目经理,他们通过引人注目的视觉展示帮助许多公司提升了品牌。
Impact Retail had spent many years outsourcing its digital print work – but in March of last year, they invested in Fujifilm's Onset X1. Impressed with the results, the company soon became a BETA test site for the new, automated Onset X1 HS solution and following two months of successful testing, Impact Retail has now become the first company in the world to invest in the Onset X1 HS.
Impact Retail花费了很多年才将其数字印刷工作外包出去——但在去年三月,他们投资了Fujifilm的Onset X1后,其结果给人们留下了深刻的印象。该公司很快成为新的自动化Onset X1 HS解决方案的BETA测试地点,经过两个月的成功测试,Impact Retail现在已成为世界上第一家投资Onset X1 HS的公司。
"Due to the nature of the brands we work with, the quality of our finished products is critical to everything we do," says Westley Allen, Print Manager at Impact Retail. "Reducing lead times is also very important, to ensure that we always support our clients to achieve challenging in-store launch dates.
"由于与我们合作的品牌的性质,我们制成品的质量对于我们所做的一切来说至关重要。"Impact Retail的印刷经理韦斯特利·艾伦说道,"缩短交货时间也非常重要,这可以确保我们始终支持我们的客户以实现富有挑战性的店内活动开展日期。
"Up until mid-2020, we had outsourced the vast majority of our print work, but we decided we wanted to have more control over quality and lead times and looked into options to bring it in-house. We ultimately felt that the first few machines we looked at lacked the set up and print speed levels we needed, and once that became clear, the Onset was really the only option.
"直到2020年中,我们已经将绝大部分印刷工作外包了出去,但我们仍然决定并希望自身对产品质量和交货时间有更多的把控,并寻求一些产品能够进行内部印刷的方案。最终,我们觉得前几台所看到的机器缺少我们所需的设置和打印速度级别,一旦这种需求变得清晰,Onset就成为真正唯一的选择。
"We could immediately see that the Onset X1 could deliver on the print quality front and it certainly ticked the speed box too. We did a site visit to Inca Digital's Cambridge facility to see the Onset in action for ourselves – from then on, we were sold.
"我们可以很直观地看到,Onset X1可以在打印质量方面达到世界领先地水平,而且无疑也使速度得到认可。我们对Inca Digital的剑桥工厂进行了实地考察,以了解Onset地实际效果——从那时起,我们就已经被这台机器征服。
"This was by far the biggest CapEx we'd ever undertaken as a business – so it was not a decision we took lightly, but the speed and quality were of such a high standard that we were confident it was a good strategic long-term investment."
"这是迄今为止我们所进行过地最大的投资支出——因此我们在作出这个决定时并不轻率,由于其速度和质量都达到了很高的标准,我们相信这将会是长期的优秀战略投资。"
Covid-19 delayed the installation of the Onset X1 at Impact Retail, which was initially planned for March 2020, with the machine fully installed in July. "We were blown away by the quality it produced and the speed it worked at, and were immediately able to adjust our workflow, reducing lead times and increasing the flexibility of our scheduling," continues Allen.
新冠疫情推迟了Impact Retail最初在2020年3月安装Onset X1的时间,改由7月才完成了安装。"我们对它地生产质量和工作速度感到震惊,并且能够凭借它立即调整我们的工作流程,减少交货时间并增加调度的灵活性。"艾伦继续说道。
With a strong relationship now formed, Impact Retail agreed in October 2020 to be a test site for the more advanced, automated Onset X1 HS. "Given how well things had gone, we were very much open to incorporating robotics onto the X1 to boost speeds still further," says Allen. "It already ran fast, but we felt that if we could produce the same quality print even faster, we were looking at a game-changer. Seeing it in action, we were immediately impressed. The automatic unloading of substrates greatly reduces set up times and the versatility in terms of media the robotics can handle is very impressive."
现在Impact Retail和Fujifilm已经形成牢固地合作关系,前者在2020年10月同意成为更先进的自动化Onset X1 HS的测试场所。"鉴于情况整体进展顺利,我们非常愿意将机器人技术集成到X1上,以进一步提高生产速度。"艾伦说道,"尽管它已经运行得非常快,但我们认为,如果我们能够更快地生产相同质量地打印件,那我们就成为首个寻找改变游戏规则的人。在看到改变后地实际效果后,我们立刻就被打动了——基板地自动卸载大大减少了装载时间,并且机器人可以处理介质的多功能性令人印象深刻。"
Impact Retail's full investment in the Onset X1 HS was finalised in December, and the company is delighted with the results, declaring the machine a huge success. "Combining the technology with a strategic change in working patterns, we have now doubled production capacity. This means we can now work with more clients, more brands and still provide the same exceptional service we pride ourselves on.
Impact Retail在随后的12月完成了对Onset X1 HS地全部投资,该公司之前一样对新机器感到满意,并宣布该机器取得了巨大的成功。"将技术与工作模式的战略性变化相结合,我们现在的生产能力已经翻了一番。这意味着我们现在可以与更多的客户、更多的品牌合作,并且仍然提供我们引以为傲的出色服务。
"This investment also enables us to venture into more bespoke work, smaller volume production runs and projects that require faster turnaround times that may have been challenging to provide previously.
"这项投资还使我们能够冒险进行更多的定制工作、更小批量的生产运行以及需要更快周转时间的项目,而这是以前的机器很难提供的。
"Initially, we were printing to display and fluted boards for the temporary display side of the business. We're now broadening the range of substrates and applications, allowing us to print even more of our premium retail display work in-house.
"最初,我们内部主要印刷生产临时的展具和凹槽板等业务,但是现在我们正在扩大承印物和应用的范围,是我们能够在内部印刷更多的优质零售展示作品。
"Investing in the Onset X1 HS is the single biggest investment this company has ever made and we can safely say it has transformed our business. It's one of the best things we've ever done. We had originally envisaged the Onset taking on around 80% of the digital print jobs we were outsourcing – with the remaining 20% and all our litho work continuing to be outsourced. But it has exceeded our expectations massively. We have, in fact, now brought all of our digital print and litho work in-house – with the exception of a few speciality print jobs – and we're printing more than double the volume we'd anticipated. When business gets back up to pre-pandemic levels – we'll do even more."
"投资<span style="