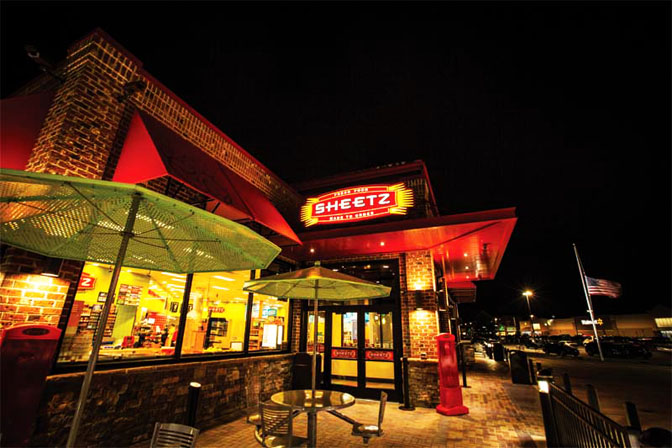 Just seven years ago, T12 was starting out in the light-emitting diode (LED) retrofit market. At the time, channel letter retrofits dominated the industry; however, the idea that a C$3 T12 could be retrofitted cost-effectively to an LED was a long shot and was exclusively reserved for high-maintenance locations. Regardless, the market was so big and ubiquitous that LED manufacturers and sign companies alike strove to come up with a solution. Early stage innovations included everything from rollout carpet products to various substrates with light bars that needed to be field assembled. Manufacturers were constantly experimenting through this nascent market.
就在七年前,T12还处于发光二极管(LED)改造市场的起步阶段。当时,通道字母是这个行业的主导,将一辆3加元的T12改装成一颗LED灯的想法是不太可能实现的,而且只能在维护成本较高的地区使用。然而,这个市场如此的巨大,以至于制造商和标识公司都在努力想要想出一个解决方案。早期的尝试包括从推出地毯产品到各种需要现场组装的带有光杆的材料。制造商们不断得在这个新生的市场中进行试验。
Switching to a reliable power supply
可靠的电源
Today, LED retrofits are in full swing as they are a cost-effective solution to existing light fixtures. The transition toward installing and using retrofits started with two basic approaches.
今天,LED的改造正如火如荼地进行着,因为它们是现有灯具的一种经济有效方案。主要是从安装和使用改造的两个基本方面开始。
1.A patented stick was developed, which could fit into existing sockets, allowing installers to follow traditional relamping processes. This line of direct in-socket products initiated a solution that has now become the standard for retrofitting sign cabinets—from T12 lamps to LED. The product allows the LED-carrier substrate to fit directly into a T12 socket. Also, the power supply is separate. This means a highly reliable commercial power source is used compared to the low dependability of 'self-ballasted' LED drivers. Therefore, the product can be field cut and any range of LED strings/modules can be placed onto the substrate.
1.新研发的一种专利棒,它可以安装在现有的插座上,安装人员按照传统的安装过程进行安装。这一系列的直插式插座产品开创了一种新的解决方案,现已成为从t12灯到led的标准,该产品让led载体基板可以直接安装在T12插座上。此外,电源是独立的,这意味着与商业电源相比,LED驱动器的电源成本更低。另外,该产品可以现场切割,任何LED字符串或者模块都可以放置在基板上。
2.The product was entirely assembled in North America, which allowed a range of colours, lamp lengths, outputs, and beam patterns to cover any sign cabinet size that could be delivered in a timely manner.
2.该产品完全是在北美组装的,因而这个系列的颜色、灯长、输出和光束模式可以覆盖任何标识面,并且能够及时交付。
As with any innovation, these ideas were simple, yet effective, and set a new market opportunity into motion in the illuminated sign space. More importantly, retrofits allowed sign installation companies to add value to their services by upgrading customers' existing fluorescent fixtures to LEDs. Additionally, the low costs of these sticks combined with the rising expenses for maintaining and servicing signs guaranteed a faster return on investment (ROI) for businesses that upgraded to LEDs. The returns were easy to measure, further lowering the risk to business owners.
与任何创新行为一样,这些做法简单而有效,并为照明标识空间提供了新的市场机会。更重要的是,翻新工程使标识安装公司能够通过将客户现有的荧光灯升级为led灯来提高他们的服务。此外,随着荧光灯维护和服务费用的不断上升,升级到led能够让企业更快地获得投资回报(ROI),进一步降低了企业主的风险。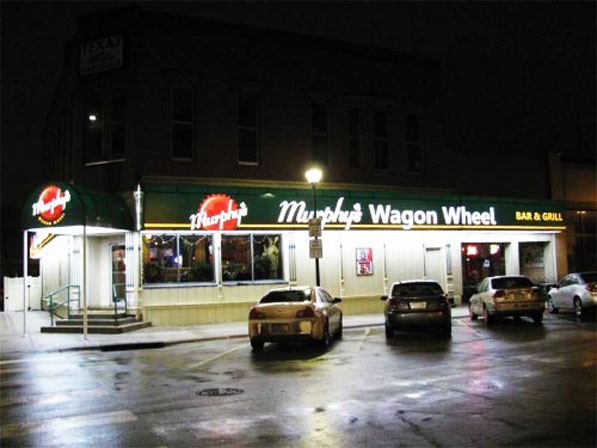 Driving ROI to customers
提高客户的投资回报率
When converting from T12 to LED, there are three key costs that drive the customer's ROI.
当从T12转换到LED时,有三个关键因素提高了客户的投资回报率。
Energy Savings
节能
LEDs typically lower the overall energy consumption by 50 to 75 per cent. Single-sided cabinets offer the most savings, especially if a retrofit is used. Lamps provide 360-degree illumination; therefore, much of the light never gets translated to lux (used to measure the amount of light output in a given area—one lux is equal to one lumen/m2[one lumen per 11 sf) on the sign face. With LEDs, the beams are more directional, which allows maximum sign illumination with a minimum number of light sources. The number of hours a sign is on, as well as its utility rate, will impact the overall energy savings.
led通常能将整体能耗降低50%至75%,在进行翻新的情况下,单面柜的节能效果更好,灯能够提供全方位的照明,在翻新之前,大部分的光都没有被转换成勒克斯(用来测量给定区域的光输出量——1勒克斯等于1流明/平方米(1流明/ 11平方英尺))。有了led,光束更有方向性,可以用最少的光源实现最大的标识照明。
Maintenance
维修费用
One of the biggest drivers of ROI is maintenance. Relamping can be an expensive process—much of the cost is not in the lamps itself, but in the time and labour required to reach the site and perform the job. Since LEDs last much longer than high-output (HO) T12 fluorescent lamps, end-users experience a substantial reduction in service calls and ongoing operational costs.
投资回报率的最大影响因素之一是维护费用。重新安装可能是一个昂贵的成本——不仅仅在于灯本身的成本,而在于到达现场并完成工作所需的时间和人力。由于led灯的寿命比高输出T12荧光灯长得多,因此后续的维护成本会大幅减少。
Upfront costs
预付成本
Upfront costs of materials and installation are a big component of ROI for sign companies.
前期材料成本和安装成本也是标识公司投资回报率的重要组成部分。
These expenses can impact returns; therefore, it is important to include them in the calculation. One way to help the customer save money is to install the retrofit when servicing their lamps. One is already attending to a service call in this case, so the upfront costs only include materials and the additional time required to install the retrofit versus relamping.
这些费用会影响后期的收益。因此,将它们纳入计算范围是很重要的。节省成本的方法是在维修灯具时进行翻新,在这种情况不属于我们所说的预付费用的范畴,前期成本只包括材料和安装改造所需的额外时间,而不包括重新安装的成本。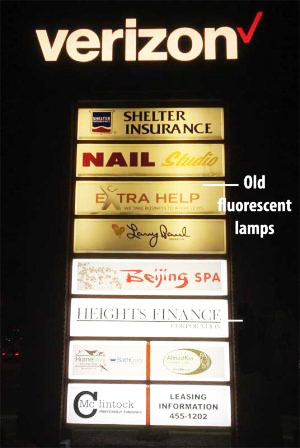 Calculating ROI on retrofit installations
如何计算投资回报率
Many LED manufacturers can provide an ROI calculator. The author's company has a simple online calculator that provides a custom ROI to sign businesses, which they, in turn, can directly present to customers. It even allows professionals to adjust their material markup and input their installation costs. The output includes annual savings for the customer and an ROI given over a specific time period.
许多LED制造商都提供投资回报率的计算器。一方面,他们提供一个定制的投资回报率来签署业务,反过来,他们可以给客户说明可能获得的利润。它也允许专业人士自定义他们的材料价格和安装成本,然后输出包括客户的年度节省和特定时间段在内的投资回报率。
There are three key variables that should be researched prior to bidding a T12-to-LED retrofit.
T12到led改造之前,有三个关键的变量需要研究。
Evaluate the site
预先评估
Sign professionals should begin by asking themselves: "Is this a difficult-to-service area (i.e. one that requires special trucks or equipment for servicing) or one with high-maintenance costs due to the remoteness of the location or limited access?" Other questions to consider are whether or not the client has time restrictions for the installer to be on-site and how it would impact their work. Finally, one must evaluate access for future maintenance jobs before making any suggestions. It often makes sense to recommend a system that has higher upfront costs beforehand, to prevent expensive service calls in the future.
标识专业人士首先应该问问自己:"这是一个难以服务的区域吗(即需要特殊的卡车或设备进行服务),还是一个由于位置偏远或交通不便而需要高额维护费用的区域呢?"另外一个需要考虑的问题是,安装的时候是否有着时间限制,会不会影响他们的工作。最后,提出任何建议之前,都必须考虑到未来的维护工作。为了防止将来出现昂贵的后续成本,建议提前支付较高的预付费用通常是有意义的。
Research code restrictions
注意地区限制
Many cities and municipalities have restrictions on new signage, which may apply to a retrofit as well—especially if the sign is older and, therefore, 'grandfathered.' It is important to understand national and local codes and any other special electrical requirements put in place by the city or municipality. In some cases, a new sign may require extensive electrical fixtures that may exceed the budget.
许多城市和自治市对新的标识有限制,翻新工程也必须遵循这个限制,特别是如果标识较老的时候。"了解国家和地方法规以及市政府制定的要求是很重要的。在某些情况下,一个新的标识可能需要大量的电力支持,可能超出预算。
Gather maintenance data and energy costs
注意维修数据和能源成本
One may not be servicing the sign, but as an expert, they may have a rough idea of the maintenance costs of the site. If one has already serviced the sign before, they should have the client's maintenance history. If one is unsure of ongoing costs, they can check with customers, who would be happy to share their records during the survey—especially if one explains they need this data to conduct a proper assessment to guide them toward the best solution. During the survey, one should also gather other necessary information: current illumination source, wattage, energy costs, and hours of operation. This data is critical in providing a complete ROI analysis to the client. Many LED and other lighting manufacturers have off-the-shelf calculators to help sign companies provide a complete returns analysis to their customers.
大众可能对标识的维修没有概念,但作为一个专家,他们必须对标识的维护费用有一个粗略的估计。如果之前已经对标识进行过维护,那么应该在客户端应该有维护历史。如果不确定当前的成本,他们可以与客户沟通,客户会很乐意分享他们之前的翻新记录——特别是如果和他们解释说他们需要这些数据来进行适当的评估,以指导他们找到最佳的解决方案。在翻新过程中,还应收集其他必要的信息:当前照明源、功率、能源的成本和照明时间。这些数据对于向客户提供完整的投资回报率的分析来说至关重要。许多LED和照明设备制造商都有现成的计算器来帮助标识公司向客户提供完整的回报分析。
Today, changing illuminated signs from T12 to LED is easier and more cost-effective than ever. Understanding the dynamics of the site, educating customers on ROI data, and communicating clearly with clients will ensure a great experience and a sign that performs well for years to come.
如今,将照明标识从T12换成LED比以往任何时候都更容易,也更划算。了解行业动态,在投资回报率数据上对客户进行培训,并与客户进行清晰的沟通,这些都能够获得更好的体验和更好的表现。