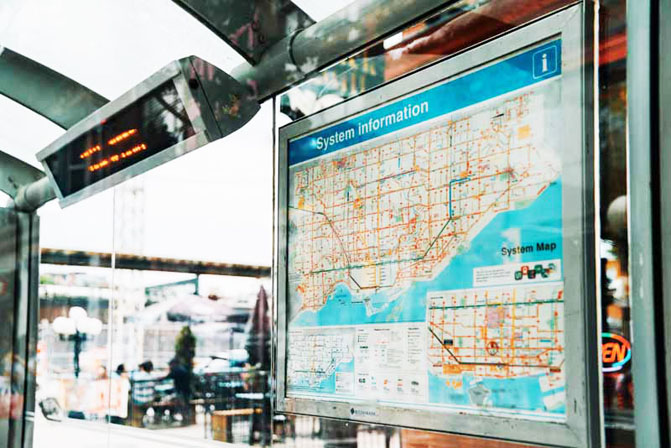 Wayfinding has evolved quite dramatically with the overall adoption of digital signage and the evolution of inter-activity for an enhanced user experience. In turn, indoor mapping technologies have greatly advanced how wayfinding is affecting numerous verticals. Accessibility in daily life is crucial, and using digital signage for wayfinding has assisted many.
随着数字标识的不断发展,用户体验的不断提高,导视标识也发生了巨大的变化。反过来,室内地图技术也极大地提高了数字化的导视标识对众多垂直领域的影响。在日常生活中,可访问性是至关重要的,使用数字化导视标识进行导航帮助了很多人。
The average individual spends as much as 75 per cent of their time indoors. Information about who, where, and what is around someone has become standard fare. In today's digital age, consumers demand real-time, accurate, and relevant information at their fingertips. Most people are familiar with outdoor wayfinding, to the point it has become second nature for some. Indoor wayfinding, however, is beginning to catch up to its outdoor counterpart in terms of user adoption.
平均每个人呆在室内的时间在18个小时以上。一个人的身份、地点和周围环境的信息已成被量化。特别是在数字时代,消费者需要实时、准确和相关的信息。大多数人更熟悉户外的导视标识,然而现下,室内导视标识的使用率开始赶上户外标识。
Online retailers are continually delivering an experience that is efficient and personalized; one consumers have become accustomed to. As a result, consumers are now seeking similar benefits when shopping in brick-and-mortar stores. To date, this experience has been significantly more difficult to replicate within a physical location.
因为在线零售商提供高效和个性化的体验让消费者习以为常,所以消费者在实体店购物时也希望得到类似的体验。到目前为止,这种体验在实体店复制下来的难度要大得多。
What is wayfinding and how is it implemented?
什么是数字化的导视标识?它是如何实现的?
Wayfinding is the use of products to provide navigation and information to consumers about a given product, location, or service. Used well, wayfinding is much more than simply moving people from point-to-point as efficiently as possible. Evolving from (and now including) static signage, wayfinding is used in any number of industries to bring the digital experience into physical locations. The goal of good wayfinding is taking into account design and brand extension while providing information. Ultimately, however, it needs to be intuitive and helpful enough that people will want to engage with it.
数字化的导视标识是向消费者提供关于给定产品的位置和服务的信息。使用得当的话,不仅仅是简单地引导人们从一个点去往到另一个点。它是从静态标识发展而来的,被用于许多行业。好的数字化导视标识应该是在提供信息的同时考虑到设计和品牌推广。但是它最重要的要求还是足够的直观,能够让人一眼获得自己想要的信息。
Wayfinding also plays a part in the larger conversation around property and asset management. If not used properly, it can complicate these processes. On the other hand, when it is used correctly, organizations can see a dramatic increase in time savings. Understanding the overall layout of a facility can help with decisions about everything from leasing to maintenance to directing customers for the purpose of sales.
在大型商业地产中,可触碰的数字化导视标识也发挥了巨大的作用。使用不当的话,可能会使这些过程变得复杂。而当它被正确使用时,可以明显的节省时间。了解设施的总体布局有助于商店做出从租赁到维护的相关决策,更好的进行销售。
What are the benefits?
可触碰的数字化导视标识的优点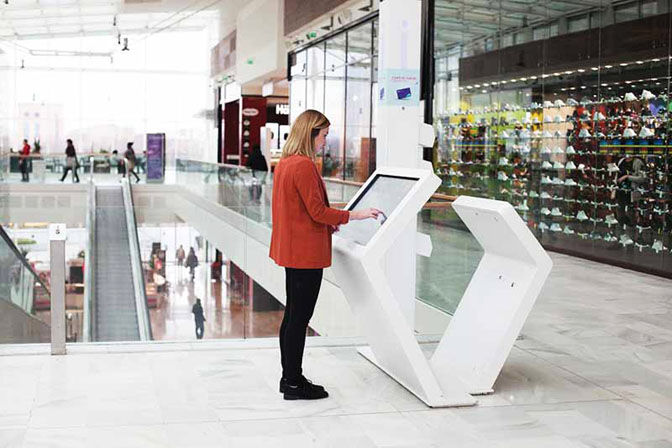 New technologies are always being launched, tested, and improved upon.(新的技术在不断的推出,测试和改进)
Wayfinding can also help provide valuable information regarding emergency and safety procedures. Having clear and direct information, directions, and policies, in case of an emergency, can assist in ensuring the safety of all customers and employees. In addition, wayfinding can help provide cost savings through up-to-date safety information that is publicly available. This helps to avoid fines or even legal repercussions, as well as protecting efficiency if emergency personnel need to be directed around or to a specific location on a property.
可触碰的数字化导视标识还可以在紧急情况下提供一些宝贵信息。在紧急情况下,显示清晰和直接的信息、指示和政策,可以更好的确保所有客户和员工的安全。此外可触碰的数字标识可以通过公开的最新安全信息来节省成本,这能够有效避免罚款和一些法律的影响,也有助于在紧急情况下将工作人员引导到特定的位置,提高他们的工作效率。
Accessibility also ensures every customer can be reached and assisted, guaranteeing their experience is accommodating to their needs. More than simply directing routes to elevators or avoiding stairs, being able to showcase clear and concise routes with helpful symbols can eliminate any language or cultural barriers that may exist.
可触碰的数字化导视标识的可访问性还确保每一位客户都能获得帮助,确保他们的体验能够满足他们的需求。除了简单地进行指引路线,比如引导人们到达电梯或避开楼梯,能够用简洁的符号展示清晰有效的路线,这样子可以消除一些语言或文化障碍。
On digital wayfinding platforms, directions can be easily translated into a number of languages, and visuals can assist with the hearing impaired, allowing for ease of use for every user.
在可触碰的数字化导视标识平台上,指示的方向可以很容易地翻译成多种语言,这样子可以帮助听力受损的人,让每个用户都可以轻松获得有效信息。
When wayfinding is properly implemented, there is a clear return on investment (ROI) for businesses. Static signage in different types of venues used to be the norm. This signage can be expensive to create, and even more expensive to update, as frequently as required due to changing circumstances. That said, digital platforms allow businesses to ensure the most up-to-date information is displayed to visitors. In the retail industry, shoppers are able to get to their destination faster (and in better moods), allowing them to spend more time in the stores. In hospitals, employees spend a significant portion of time providing directional assistance. By implementing a self-serve platform for patients and visitors to find their location, employees are able to spend their time more effectively.
在正确地使用可触碰的数字化导视标识后,企业可以获得明显的投资回报。在过去,不同类型的场馆普遍使用静态标识。随着环境的变化,静态标识的成本可能会提高,而且更新的成本也会提高。也就是说,可触碰的数字化导视标识可以让企业确保访问者获得的是最新的信息。在商场,购物者能够更快地到达目的地,这种情况下不仅他们的心情也更好,而且可以使他们有更多的时间在商店里进行消费。在医院,通过为病人和访客提供一个自助服务平台,让他们顺利去他们要去的位置,员工可以更有效地利用他们的时间。
How does it affect the user experience?
可触碰的数字化导视标识影响用户体验
Wayfinding not only helps people get where they need to go, but can also be part of a larger, holistic approach to interaction and customer experience. For instance, think of wayfinding as another means of interacting with customers, a touchpoint to directly affect their experience. Removing frustrations and streamlining their journey to and through an organization can have a number of implications on their perspective of a brand. It can improve their overall perception, allow them more time to explore the location, its product offerings, or even increase their purchase via add-ons and recommendations.
可触碰的数字化导视标识不仅可以帮助人们到达他们需要去的地方,它还是一个整体性,互动体验的一部分。例如,把寻找商店的线路这个过程看作是与顾客互动的一种方式,一个直接影响顾客体验的部分。顺利找到商店地址可以让顾客获得成就感,增强他们与商店之间的联系,提高他们对商店的品牌认同感。同时,它可以让他们有更多的时间来探索该地点、该公司的产品,甚至通过相关推荐增加他们的购买量。
User experience (UX) refers to the overall design of a product or service; however, it is more than this. UX covers every way a customer interacts with a brand—even at the psychological level. How brands are presented has psychological implications, including reactions to the design and actual use of a product; therefore, it is key to have a clearly outlined plan for the entire process.
用户体验是指产品或服务的整体设计,然而它远不止于此。用户体验还涵盖客户与品牌互动的所有方式,甚至包括心理层面。品牌如何对顾客进行心理暗示,包括对产品设计和实际使用的反应的暗示,而这个关键是要对整个过程有一个清晰的计划。
By streamlining user experiences through physical- and digital-brand touchpoints—fully capturing every touchpoint possible allows users to form a connection with a brand before, during, and after their interactions. Leveraging this increase in brand equity is crucial.
通过可触碰的数字化导视标识来提高用户体验,可以让用户在互动之前、期间和之后与品牌形成联系。这一点有利于品牌资产的增长。
Where is it used?
可触碰的数字化导视标识的适用范围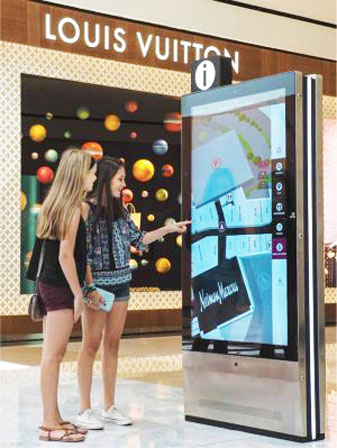 Real-time usage of digital wayfinding has become the standard.(可触碰的数字化导视标识使用广泛)
Wayfinding can be used in any number of industries, as there are few public spaces where people do not need assistance navigating. While retail centres may be the first example that comes to mind, wayfinding has also had a marked impact in airports, education campuses, public venues, and healthcare.
可触碰的数字化导视标识可以应用于任何行业,因为很少有公共空间不需要辅助导航。人们首先想到的可能是商场,但在机场、校园、医院和一些公共场所,可触碰的数字标识也能发挥重要作用。
Healthcare campuses, including hospitals and medical complexes, have a clear need for the implementation of wayfinding. Healthcare campuses usually involve a number of buildings when large-scale, or one building with very small and difficult-to-locate departments on a more individual scale. Also, healthcare campuses rarely have one continuous building style. Often, as additional departments and clinics are added over the years as a result of new funding or donations, it can further complicate the ability to get around.
医院和医疗机构很显然需要可触碰的数字化导视标识,因为这些地方规模较大,通常包含多个建筑,或者在更独立的规模上,包含一个非常小且难以定位的部门的建筑。此外,这些地方很少有一种连续的建筑风格,在通常情况下,由于新资金的注入,会不断的增加部门和诊所,这使得行人在寻找线路的时候很难去往要去的地方。
Visiting a hospital is never a pleasant endeavour, but feeling lost and upset on arrival only serves to exacerbate the issue. Visitors to these locations are often under duress and need to make it to specific departments as quickly as possible. Quick and efficient processes are the bread-and-butter for healthcare services, as these are key to ensuring daily operations run smoothly and being able to see as many patients as possible. Reducing stress also has a dramatic impact in assisting with this, as it allows procedures and appointments to proceed as smoothly as possible.
去医院从来都不是一件令人愉快的事情,如果到了医院找不到线路,会加剧这种失落和不安,因为患者和家属往往需要尽快赶到特定的部门,快速、高效的流程是医疗服务的基本要素,因为这些流程对于确保顺利进行日常工作和尽可能多地见到患者而言至关重要。正确使用可触碰的数字化导视标识能够帮助患者尽快找到线路,减轻患者压力,确保流程尽可能顺利地进行下去。
Accessibility needs to be considered in all industries but it is paramount for the healthcare industry. While accessibility should be taken into account during the design stage of constructing a building, wayfinding can help supplement in areas where it is not the main focus. In a healthcare campus, showcasing the most accessible route is key to ensuring all patients are able to navigate with the least amount of time and effort possible.
所有行业都需要考虑可访问性,但对于医疗行业来说,可访问性是特别重要的。虽然在建筑的设计阶段应该考虑到可达性,但可触碰的数字化导视标识能够补充一些平常忽略的区域。在医院和医疗机构中,导航关键是展示最容易到达区域的路线,确保所有患者花费最少的时间和精力。
An example of wayfinding implementation that was discussed and planned for during the design process is at the Hudson Yards, a 1,672,254-m2 (18 million-sf) luxury retail property in Manhattan, N.Y., which contains everything from hotels and shops to offices and residential buildings. Positioned around the 'Vessel,' an interactive art installation and landmark, Hudson Yards wanted to ensure the entire property was accessible and easily mapped out for new visitors in its 2019 phase-one launch. Once the entire project is complete, it will encompass more than 11.3 ha (28 acres) of prime real estate. With an established wayfinding system in place, adding and updating maps of the property already has a foundation on which to build.
在设计过程中讨论的可触碰的数字化导视标识的一个例子是纽约州曼哈顿的哈德逊庭院(Hudson Yards),占地1,672,254平方米(1,800万平方英尺),酒店、商店、写字楼和住宅楼应有尽有。哈德逊庭院位于互动艺术装置和地标性建筑"船"周围,规划的目标是在2019年一期的推出中,整座建筑都可以顺利进入,新游客能够方便快速地到达想去的地方。整个项目完成后,它将包括超过11.3公顷(28英亩)的优质房产,要在这其间找到想去的地方, 可触碰的数字化导视标识是必不可少的。
A holistic digital signage strategy
全新的数字化导视标识策略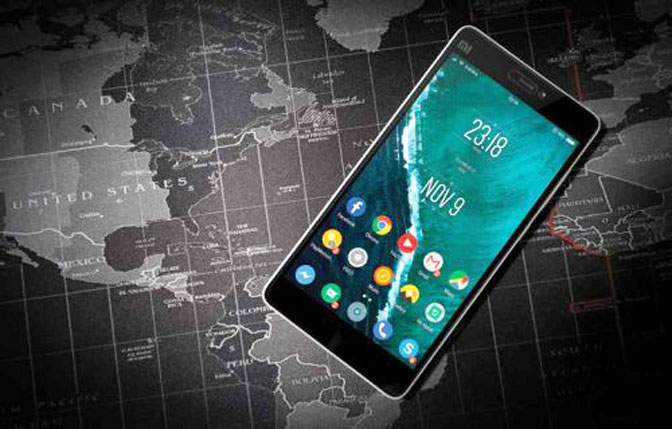 By using the customer's location within a property, businesses can push notifications to their smartphone.(通过定位客户的位置,企业可以将通知推送到他们的智能手机。)
Digital signage is used across a variety of verticals to gain attention for advertising, information messaging, entertainment, and merchandising. Consumers have come to expect the bright, flashing screens as having important information accessible to them. Digital maps and wayfinding are one component of this digital signage strategy. Ads, proximity marketing, and mobile applications are just some of the ways companies are harnessing the power of digital to encourage more business. While these tactics are effective, they require accurate maps and location data to ensure the greatest ROI for company marketing efforts.
可触碰的数字化导视标识被广泛应用于各种领域,获得广告、信息传递、娱乐和销售方面的关注。消费者已经开始期待屏幕能提供更多重要的信息。数字地图是这种数字标识策略的一个组成部分。广告、近距离营销和移动应用程序只是企业利用数字化力量鼓励进行更多业务的方式。虽然这些策略是有效的,但它们需要精确的地图和位置数据,以确保公司营销工作