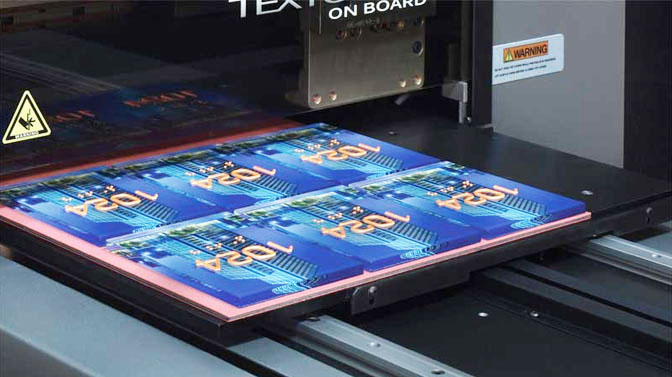 Inquisitive people frequently follow an answer to an inquiry with a seemingly simple question: 'why?' While this may be the simplest of questions with a clear request for more details on the topic at hand, this is nonetheless one word capable of yielding big answers.
好奇心强的人常常用一个看似简单的问题"为什么?"来回答问题:虽然这可能是最简单的问题,但是要求对手的问题有更详细的回答,因为这是一个能够给出重要答案的词。
When industry professionals exhibit ultraviolet (UV) light-emitting diode (LED) printers at trade shows or discuss the technology when leading an educational seminar, visitors often ask questions such as, 'why are these so popular?' or 'why are people investing in this?' While those familiar with the technology can answer questions such as these with long-winded strategies and return on investment (ROI) examples for nearly every industry, it might instead be beneficial to focus on the awesome applications made possible with this equipment and why it is so popular in sign shops.
当标识行业专业人士在贸易展上展示UV-LED打印机或在举办教育研讨会时讨论该技术时,参观者通常会问一些问题,即"为什么这些产品如此受欢迎?"或者"人们为什么要投资这个?"虽然熟悉这项技术的人可以回答这样的问题,而且几乎每个行业都有冗长的战略和投资回报率(ROI)示例,但是标识制作商还是需要思考,将重点放在这项设备所能实现的应用上,以及为什么它如此普及,会给标识行业带来什么好处呢?
A quick overview
快速概述
UV LED printers use special UV-curable ink. This ink is jetted through a print head and then immediately cured on the material's surface when passed over by the UV LED lamp (attached to the print head). The print does not permeate the surface of the material, is dry upon completion, resists many harsh chemicals, and can be applied to many different substrates.
UV-LED打印机使用的是特殊紫外线固化油墨。这种墨水通过打印头喷射出来,当被紫外线LED灯(附在打印头上)照射时,立即固化在材料表面。由于打印品不会渗透到材料表面,所以也不会立即干燥,但是紫外线油墨能抵抗许多化学物质,并可应用于许多不同的材质。
Most small- and mid-sized format options have printable areas that range can between 279 x 406 mm (11 x 16 in.) and 607 x 1219 mm (24 x 48 in.). Further, these units have varying Z-axis (or height clearances), ranging from 50.8 to 381 mm (2 to 15 in.). There are options available for companies of all sizes, regardless of footprint, budget, or process.
大多数中UV-LED打印机都有可打印的区域,范围可以在279 x 406毫米(11 x 16英寸)和607 x 1219毫米(24 x 48英寸)之间。此外,这些单元具有不同的z轴(或高度间隙),范围从50.8到381毫米(2到15英寸)。对于任何规模的公司都有可用的选项,而不考虑占地面积、预算或流程。
Versatility abound
多功能性
UV printers are among the most versatile pieces of signmaking equipment on the market today. Custom acrylic awards, braille signage, plaques, phone cases, wood signs, water bottles, and even T-shirts can be created using a single UV printer.
UV-LED打印机是当今市场上最常用的标识制作设备之一。定制亚克力、盲文标识、牌匾、木头标识、水瓶,甚至T恤都可以用一台UV-LED打印机来制作。
While not all businesses require this array of printing capability, using the equipment for a singular application is, of course, equally effective; however, operators should still be made aware of the levels of versatility at their disposal. There are many single-person operations that print all of the products listed above as a side business, as well as full-scale, multi-location sign companies that print braille signage on multiple units for two or three shifts a day.
虽然不是所有的企业都需要这种打印能力,但将该设备用于单个应用程序当然同样有效;然而,操作人员仍然应该了解他们所掌握的通用性水平。尽管有许多个人经营的公司把上面列出的所有产品都作为副业来打,但是也有综合性标识公司,每天在多个单元上打印两到三个盲文标识。
When analyzing the versatility of this inkjet technology, printed samples help tell the story and serve as one of the main pieces of the purchasing puzzle. As such, signmakers should ensure they understand the process for replicating the samples received (i.e. was an adhesion promoter used? Did print settings need to be modified in any way?). Further, when purchasing a UV LED printer, signmakers should be sure to ask about print times and ink costs. This detailed information goes a long way in helping to plan print process, flow, and implementation.
在分析这种喷墨技术的通用性时,打印的样品更有助于说明问题,而且还是作为购买难题的主要部分之一。因此,标识制作商应确保他们了解所收到的打印样品的过程(即是否使用了粘附促进剂?是否需要以其他方式修改打印设置?)此外,当购买UV-LED打印机时,标识制造商还应确保打印时间和油墨成本。这些详细的信息有利于节约打印过程。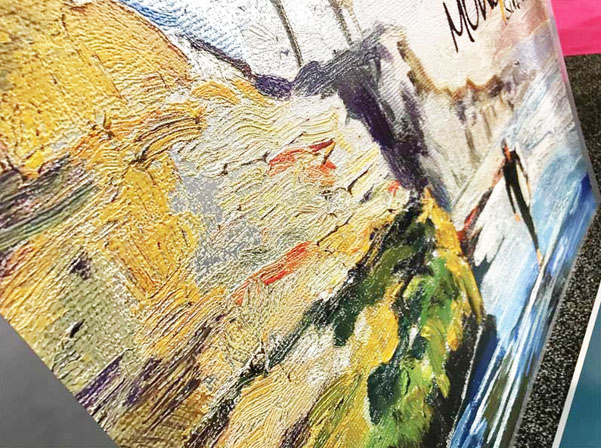 Signs pointing forward
导视标识
Aside from versatility, what are the main attractions for why a sign shop should add this digital, full-colour capability to its in-house technology?
除了通用性之外,标识制作商为什么要在其内部技术中添加一些数字化、全彩功能,这些功能可以带来什么效果?
Business growth and enhanced profitability are the consistent main objective for any company. As such, more and more sign shops are looking to UV printers as a strategy to satisfy potential voids in their product portfolios (new products), streamline labourious workflow (efficiencies), or complement monochromatic technology (enhance current offerings).
任何公司的发展目标都是希望业务增长和提高盈利,正因如此,越来越多的标识店正将UV-LED打印机作为一种策略,以满足其产品组合(新产品)中的潜在空白,简化繁琐的工作流程(效率),或补充单色技术(增强现有产品)。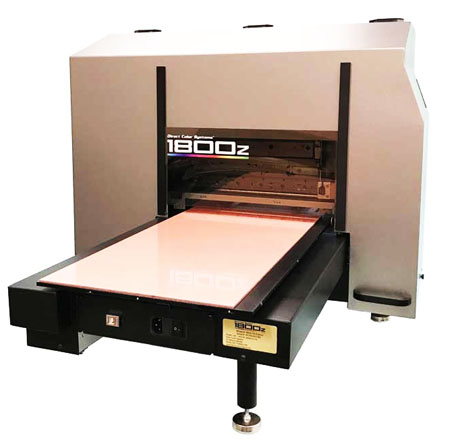 Add colour and meet customer demand
增加色彩,满足客户需求
Digitally printing photo-quality, full-colour graphics and/or backgrounds on a range of materials is not something offered by every sign shop. Some might rotary engrave and/or sublimate, but full colour capacity is not always present.
数码打印照片的质量,全彩图形,以及一系列材料的背景并不是每个标识店都能够提供。比如,有些标识公司可能会旋转雕刻或升华,但是并不会全彩打印能力。
UV-formulated cyan, magenta, yellow, and black (CMYK) inks on their own tend to be somewhat transparent when printed, appearing similar to stained glass. Using white ink as a base layer gives them the punch needed to stand out. As such, most models of UV printers on the market today include white ink within the standard CMYK set. An opaque white ink is vital for printing on dark substrates and achieving optimal colour saturation on these types of materials.
UV-LED打印机配制的青色、砖红、黄色和黑色油墨本身在打印时往往有些透明,看起来类似于彩色玻璃。因为使用白色墨水作为基本层,打印的标识会有脱颖而出所需要的冲劲。因此,目前市场上大多数型号的UV-LED打印机都在标准的CMYK系列中包含白色油墨。所以不透明的白色油墨对于在深色衬底上打印,以及在这类材料上实现最佳色彩饱和度至关重要。
This colour capability can be beneficial in many ways. Say, for instance, a shop has an order for 50 signs that require a woodgrain background. With a UV printer, an operator is able to print every element in-house rather than pay extra for foiled or painted sheet stock; the woodgrain can be printed on the second surface of an acrylic substrate and then the wayfinding, text, or logos can be printed on the front. Signmakers can save even more time if they print it all on a white substrate in a single pass.
这种颜色能力在很多方面都是有益的。比如说,一家标识制作商店订购了50个需要木纹背景的标识。需要使用UV-LED打印机,操作员可以在内部打印每个元素,而不是额外打印在箔纸或油漆板上;木纹还可以打印在丙烯酸基板的第二个表面,然后在前面打印导视标识、字母标识。如果一次性把所有的标识都印在白色的底版上,则可以节省更多的时间。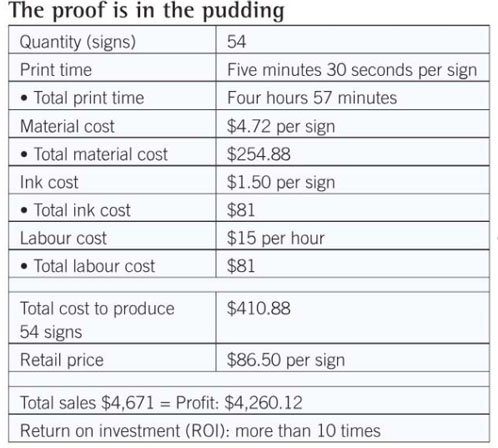 Further, utilizing a digital process requires minimal set-up for a job; signmakers simply set their artwork, load the material, hit 'print,' and let the machine do the work. The sign will be ready for mounting or further fabricating the moment it comes off the machine.
此外,使用数码打印流程只需最少的设置即可完成一项工作;标识制作商只需设置他们的作品,加载材料,点击"打印",然后机器就会完成工作。标识一旦从机器上制作完成,就可以安装或进一步制作。
From a business perspective, the chances are that the same customer who ordered 50 signs will purchase other printed items as well (e.g. golf balls, water bottles, personalized awards), which ties back to the versatility aspect noted earlier. Keep the UV printer running—it is easy for a sign shop to switch between products and expand its offerings with a full-colour capability.
从商业角度来看,订购50个标识的同一位客户也有可能购买其他打印品(如高尔夫球、水瓶、个性化奖励),这与前面提到的多功能性有关。使用UV-LED打印机,标识制作商很容易在产品之间进行切换,还可以添加全彩功能扩展其产品。
Texture effects can be seen, too
纹理效果显而易见
With a UV printer, designing and printing signs with textured elements that can be felt and seen is easy to achieve and can create a remarkable effect. Imagine, for example, printing a sign for a batting cage that has a baseball with raised laces, able to be seen and felt. This element immediately enhances the value of the piece.
使用UV-LED打印机打印带有纹理元素的标识,人们的视觉上是可以轻易的感觉到和看到,并且一定会产生显著的效果。例如,想象一下,为一个棒球场打印一个标识,而打印的棒球标识上有一个能够被看到且可以触摸的凸起鞋带,这个元素立即增加了标识的价值。
UV inkjet technology allows for texture effects to be printed in one of two ways. The first method is to print a certain area or element with multiple clear ink passes, which achieves a raised effect, and then cover the texture with a full-colour print. A faster and more economical method, however, is to use a printer capable of controlling the amount of ink that is dispensed in a single pass, rather than running multiple passes to put down clear, white, and colour. Not only does this method save time, it also allows operators to use the tonal quality of the image to create detailed textured effects.
UV喷墨技术允许以两种方式之打印纹理效果。第一种方法是用多个透明墨道打印一定的区域或元素,达到凸起的效果,然后用全彩打印覆盖纹理。第二种是使用一种更快、更经济的方法打印机,这种打印机能够控制一次打印的墨水量,而不是打印运行多次以后才打印出颜色、清晰的产品。这种方法不仅节省了时间,还允许操作人员使用图像的色调质量来创建详细的纹理效果。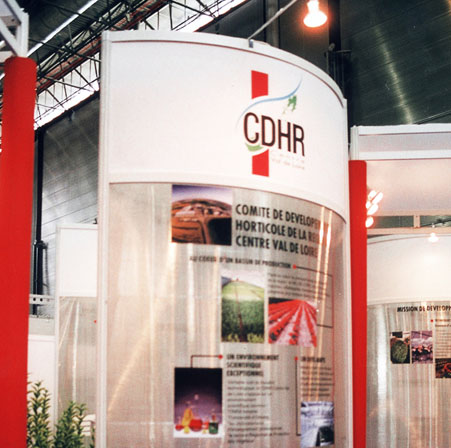 Braille and tactile element opportunity
盲文标识的机会
Though accessibility codes in Canada are not regulated at a federal level, provinces and local municipalities have outlined standards and regulations (e.g. the Accessibility for Ontarians with Disabilities Act [AODA]) in regards to braille and accessibility signage, especially when installed in government, commercial, and community facilities.
虽然加拿大的无障碍标识没有在联邦一级进行管理,但各省和地方市政当局已经制定了盲文和无障碍标识的标准和规定(例如《安大略省残疾人无障碍法案》[AODA]),特别是在政府、商业和社区设施中安装盲文和无障碍标识时都要遵守。
Further, guidelines outlined by the Canadian Standards Association (CSA) and the Americans with Disabilities Act (ADA) in the U.S. have been used as a model for many local accessibility codes within Canada. These requirements continue to drive the demand for compliant signage, equating to significant opportunity for sign shops.
此外,加拿大标准协会(CSA)和美国《美国残疾人法》(ADA)制定的指导方针已被加拿大国内的许多地方无障碍守则所采用。这些规则要求继续制作符合要求的标识的需求,这也相当于是标识制作商的重要机会。
Using a UV printer to create accessibility signage—complete with pictogram (if needed), text, and braille dots—is more efficient and profitable than traditional methods of printing. Signmakers are able to significantly reduce production time, while simultaneously minimizing production cost and increasing profit margins.
与传统的打印方法相比,使用UV-LED打印机制作带有象形图(如果需要)、文本和盲文点的无障碍标识更有效,更有利可图。在最大限度地降低生产成本和提高利润率的同时,广告公司能够显著缩短生产时间。
There are a few simple steps to printing these signs:
打印这些标识有几个简单的步骤:
Create or import a braille-compliant sign design
创建或导入符合braill的标识设计,
Send the file to the raster image processor (RIP)
将文件发送到光栅图像处理器(RIP),
Load the substrate and print.
加载衬底并打印。
The versatility of UV LED technology increases the services a sign shop can offer its customers. These printers are large profit margin products and should be utilized.
UV-LED打印机技术的多功能性增加了标识店可以为顾客提供的服务。这些打印机是利润率很高的产品,应该加以利用。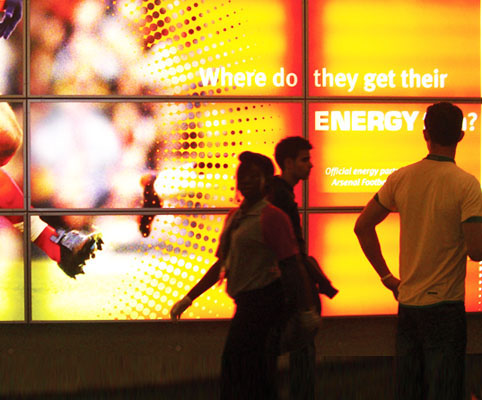 Logical progression
发展的前景
<spa