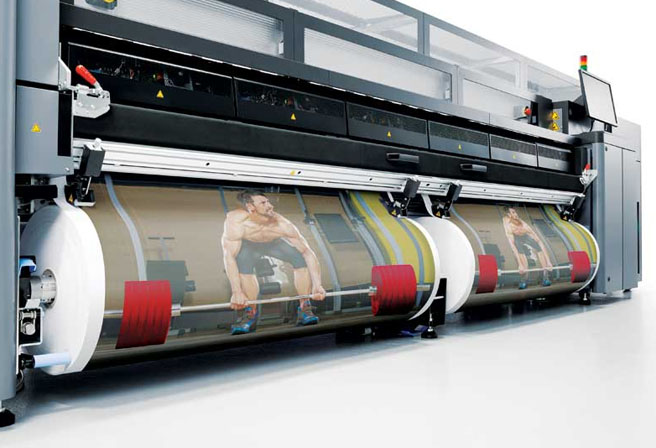 The digital printing of wide-format graphics is rapidly growing across North America. Market research firm InfoTrends expects volumes to rise from about 460 million m2 (4.9 billion sf) in 2015 to 849 million m2 (9.1 billion sf) in 2020, nearly doubling over the five-year span and demonstrating a compound annual growth rate (CAGR) of 13.1 per cent.
在北美地区,宽幅面图形的数字打印正在迅速发展。据市场研究公司InfoTrends预计,交易量将从2015年约4.6亿平方米(49亿平方英尺)上升到2020年8.49亿平方米(91亿平方英尺),五年期内增长近一倍,复合年增长率(CAGR)为13.1%。
This growth can be largely attributed to new business opportunities. The rise of aqueous, durable aqueous 'latex,' dye sublimation and ultraviolet-curable (UV-curable) inks is expected to more than offset any concurrent decline in solvent-based inks. Indeed, the very diversity of the 'ingredients' used in the sign and graphics industry is what will keep it on an upward trajectory.
这种增长在很大程度上归因于水性喷墨、溶剂型油墨、耐久性水性乳胶、染料升华和紫外线固化油墨增长带来的新商业机会。事实上,标识行业和图形制作商在实际操作的过程中,把多种油墨混合使用,才保证了产品的多样性使其保持不断增长的轨迹。
There is clearly a great deal of untapped potential in the wide-format graphics market. Businesses that can leverage new opportunities will be well-positioned for future success.
很明显,在宽幅面图形市场中有大量尚未开发的潜力,很多企业可以利用新的机遇业为未来的成功做好准备。
A brief background
背景简要
The first generation of solvent wide-format printers, which hit the market around 1999, were really just aqueous printers that incorporated new solvent-based inks and included a basic raster image processor (RIP). They produced about 7 to 11 m2 (80 to 120 sf) per hour.
第一代溶剂型宽幅面打印机于1999年左右上市,它实际上只是,融合了新的溶剂型油墨的水性打印机,拥有一个基本的光栅图像处理器(RIP),每小时大约可以生产7到11平方米(80到120平方英尺)。
There was a fair amount of confusion at first about which types of banners and self-adhesive media to use with these printers. The market quickly migrated to uncoated stock, primarily due to its low cost.
起初,由于人们对使用这些宽幅面打印机的油墨类型有很多的困惑,所以市场很快转向了较低成的本无涂层打印。
The machines typically used one printhead that split into four or six channels. Those with more channels could produce smoother skin tones in graphics, but also slowed down production. Multiple-printhead machines began arriving around 2006.
无涂层打印机器通常使用一种分为四个或六个喷头的打印头,而那些拥有更多喷头的打印商可以在产品中打印更平滑的表面,但是会降低生产速度。2006年左右,多台打印头机器开始出现。
In 2011, by which point solvent printers had become very competitively priced, the first latex printers were introduced. These water-based inkjet machines encountered some early issues relating to startup and heating time and media warping, but have since captured much of the solvent and aqueous dye/pigment inkjet market across North America and Europe. InfoTrends expects the installed base of latex printers will enjoy a CAGR of 15.4 per cent from 2019 to 2020.
2011年,当溶剂型打印机的价格变得非常有竞争力时,第一台乳胶打印机问世了。与此同时溶剂型喷墨机在启动和加热时间以及介质翘曲方面遇到了一些早期的问题,因此从那以后,乳胶打印机在北美和欧洲的溶剂和水性染料/颜料喷墨机市场占据了很大份额。InfoTrends预计,从2019年到2020年,乳胶打印机的安装基数将享受15.4%的复合年增长率。
Meanwhile, the soft signage segment of the industry continues to evolve. High-volume dye sublimation printing of textiles for apparel has been scaled down for use in sign and graphics shops, with presses available in 1.8 to 3.4-m (5.9 to 11.2-ft) widths.
此外,宽幅面打印的软标识部分也在继续发展。服装用纺织品的高容量染料升华印花不断在缩小,而标识制作商和图形供应商不断增加对宽度为1.8至3.4米(5.9至11.2英尺)的打印机投资。
And while soft signage started with the use of dye sublimation inks via transfer paper, later generations of latex printers have also provided excellent results, to the point where they now offer a viable entry-level alternative to sublimation.
虽然软标识制作是从转印纸使用染料升华油墨开始,但是后来几代乳胶打印机也提供了良好的效果,到目前为止,乳胶打印机是升华油墨一种可行替代品。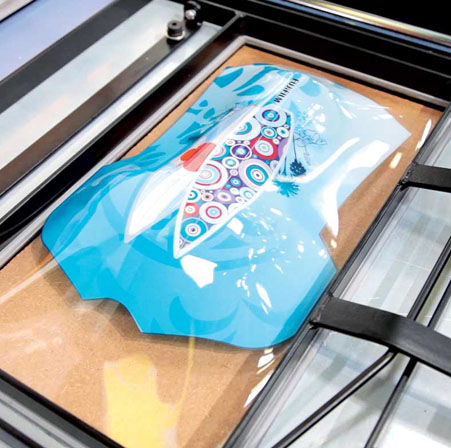 Continued diversification
持续多元化
The diversification process is continuing in the wide-format imaging industry, with systems like direct-to-garment printers helping to re-energize the market. It is not uncommon for today's sign shops to offer specialty products and the ability to print on non-standard substrates, such as packaging films.
宽幅面打印行业的多样化跟随着时代的步伐不断发展,像直接在服装上打印的打印机有助于重新激活市场。如今随处可见的招牌,展示了各种各样的独特标识,均是使用打印机在包装膜等非标准基材上打印的标识图案。
The latest durable and flexible inks also continue to push boundaries as they expand beyond traditional sign and graphics projects. Thermoforming inks, for example, are now also gaining a foothold in the printed packaging and prototyping market.
最新的耐用和灵活的墨水也继续推动边界,因为他们扩大了传统的标识和图形项目。例如,热成型油墨现在也在打印包装和原型制造市场获得了立足点。
Indeed, packaging is a hot topic these days, as print buyers explore ways to improve their products' 'shelf appeal.' Flexible inks, specialty colours and packaging prototypes that were once the domain of screenprinting are now being taken on with wide-format digital printing instead. Print service providers (PSPs) that approached this market early now have an average of three machines, while their oldest devices have already idled or worn out. While there are printers designed specifically for short-run cardboard and corrugated packaging materials, flatbed printers can be applied both to this category and to related point-of-purchase (POP) graphics and signs.
事实上,图形包装是最近的一个热门话题,因为每个制作商都在探索提高其产品货架吸引力的方法。曾经是打印领域的柔性油墨、特殊颜色和包装原型现在正被广泛的数字印刷所取代。早期进入这个市场的打印服务提供商(PSP)平均有三台机器,而他们最旧的设备已经闲置或磨损。虽然有专门为纸板和瓦楞包装材料设计的打印机,但是平板打印机也可以应用于这一类别和相关的购买点(POP)图形和标识的制作。
Digital printing has also become a mainstay in the exhibit and display graphics markets. The latest inks create fabric graphics with a rich look and feel. With light-emitting diodes (LEDs) positioned in front or behind the material, these graphics achieve the high-end appeal this market's clients want, at a reasonable cost for the sign shop.
数字打印也已成为展览和显示图形市场的主流。最新的油墨打印了一款外观非常丰富的面料图形,随后在框架面料的内部添加LED光源,那么这些图形标识就会呈现出高端的吸引力。另外也不要忽视了的客户希望,以合理的成本制作这些标识。
UV-curable inks have represented a further key area for opportunity. In addition to posters and banners, they have helped usher in new decor applications, as a flatbed UV printer can output photorealistic graphics directly onto non-traditional substrates like glass and wood.
紫外光固化油墨代表了一个更重要的领域的机会。除了海报和横幅,它们还帮助引入了新的装饰应用,因为平板紫外打印机可以直接将逼真的图形打印到玻璃和木材等非传统基板上。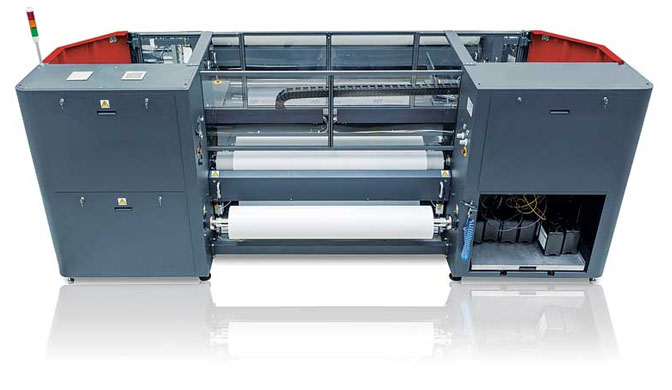 The demand for increased throughput
增加产量的需求
As the wide-format graphics market continues to scale up, the need for increased throughput is becoming more critical. Many high-end production environments are now configured to output 92.9 m2 (1,000 sf) per hour, regardless of the specific ink technology.
随着宽幅图形市场的不断扩大,提高产量的需求变得越来越重要。许多高端宽幅面打印现在被要求每小时要打印出92.9平方米(1000平方英尺),而且是在不考虑特定的油墨技术的情况下。
Manufacturers have pushed print speeds well beyond that requirement by developing wider presses, adding more printheads and using LED or mercury vapour lamps for curing. In some configurations, eight to 16 printheads accommodate graphic widths up to 3.2 m (10 ft). Fortunately, as these technologies improve, prices drop, making the opportunity available to a broader range of PSPs.
制造商通过使用更大的打印机、增加更多的打印头以及使用LED或汞蒸气灯进行固化,已经大大提高了打印速度,已经远远地超过了产量要求。在某些打印配置中,8到16个打印头可容纳高达3.2米(10英尺)的图形宽度。幸运的是,随着这些技术的改进,价格会下降,从而为打印服务提供商提高更广泛的合作机会。
Single-pass printing
单次的打印
After mainstream single-pass inkjet printers were introduced in 2013, it wasn't long before they began to be used for general sign and graphics applications. While pigmented inks have improved lightfastness, even dye-based inks have been used to produce floor graphics, posters and temporary signage (i.e. images that are changed after 90 days).
2013年,主流单次喷墨打印机问世后不久,打印服务提供商就开始用于制作普通的标识和图形标识。不仅使用了着色油墨提高耐光性,甚至染料油墨也被用来制作地板图案、海报和临时标识(即90天后可以更换的标识)。
Devices of this type are still in the early stages of development—less than 2,000 have been installed on a worldwide basis—and they have the potential to broaden the production graphics market. As the installed base increases, it should drive down the cost per print, especially for posters.
在当时,像单次打印这种类型的设备仍处于早期开发阶段,在全球范围内安装的设备还不到2000台,但是它们在图形市场上拥有很大的潜力。随着打印机数量的增加,每次打印的成本都会逐渐降低,尤其是在打印海报方面。
Total solutions
解决方案
Finishing represents another area of growth. While more and more PSPs are becoming 'total solution' providers by offering both printing and finishing services in-house, nearly one-third still outsource at least some of their post-print work to other businesses.
表面处理是另一个制作领域。虽然越来越多的打印服务提供商通过内部提供打印和精加工服务而成为"整体解决方案"提供商,但仍有近三分之一的打印服务提供商将部分打印后的处理工作外包给其他企业。
As with wide-format digital printers, today's finishing devices have been automated for faster production throughput. Even smaller PSPs can now transition their finishing work in-house and deliver a one-stop shopping experience for their customers.
与宽格式数字打印机一样,今天的精加工设备已实现自动化,以提高生产质量。甚至更小的打印服务提供商现在也可以在内部完成工作,为客户提供一站式购物体验。
Market strategies
市场策略
Many vertical markets can represent growth opportunities for wide-format printing, but the following are a few of the most compelling industries to be strategically targeted by PSPs.
许多市场均是宽幅面打印的发展机会,但以下是少数几个打印服务提供商最具吸引力的战略目标。
Construction
建筑方面
Digitally printed carpeting, glass, wallcoverings, wood, ceramic tiles and laminates are all making inroads in the construction industry. Further, more traditional signs, banners, flags and billboards are in high demand by the industry to create brand impact, attract new customers, promote services and sell homes.
数字打印的地毯、玻璃、墙纸、木材、瓷砖和层压板都在建筑行业取得了进展。此外,更传统的表示、横幅、旗帜和广告牌正受到业界的高度需求,以创造品牌影响力、吸引新客户、推广服务。
Health care
医疗保健
The rapid growth of the health-care industry is due in part to the aging population. Hospitals, nursing homes, clinics, labs and pharmacies all need wide-format graphics, from outdoor backlit displays that promote services to indoor posters that educate patients and customers.
打印医疗保健行业标识的快速增长原因是由于人口老龄化。医院、疗养院、诊所、实验室和药房都需要打印宽幅面图形,从宣传服务的户外背光显示屏到教育患者和客户的室内海报。
Food services
食品服务
The food-service industry continually relies on a broad variety of digitally printed wide-format graphics to generate awareness and create ambience for the dining experience. In this highly image-conscious market, esthetically pleasing signs and banners are key to increasing sales in restaurants.
食品服务业的标识更是持续依赖各种数字打印的宽幅面图形,为就餐着创造氛围。在这个高度注重形象的市场,美观的标识和生动横幅是增加餐馆销售额的关键。
Retail
零售
The retail sector has long been a boon to wide-format digital printing. Some wholesalers even purchase their own inkjet printers to create marketing collateral for their distributors and retailers, including POP graphics, end cap displays and promotional signage. Floor graphics can be used to lead customers directly to specific products in a store. And themed areas can be created for special holiday and seasonal campaigns.
长期以来,零售业一直是宽幅数字打印的一大领域。一些批发商甚至自己购买喷墨打印机,为他们的经销商和零售商制作营销的品牌标识,包括流行图形、促销宣传标识。还可以在楼层中增加图形标识,用于引导客户直接使用商店中的特定产品。此外,还可以为特殊节日和季节性活动创建主题标识。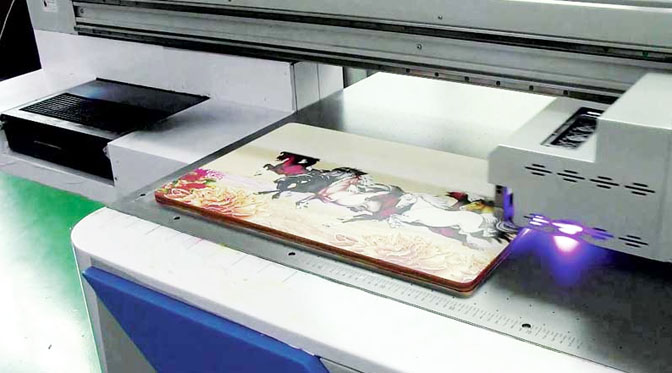 Reaching clients
联系客户
Companies that offer wide-format printing services most commonly produce banners, posters, POP displays and signs. All of these applications continue to represent major opportunities in the aforementioned industries, as well as others.
提供宽幅打印服务的公司通常生产横幅、海报、LED显示器和标识,这些应用领域都是打印服务提供商发展的机遇。
Fabric flags, banners, wind feathers and tension graphic displays, for example, can all be used to build out a themed area in a department store—and as an added benefit, they are largely reusable. Rigid boards, too, can be used for semi-permanent display structures, such as visual separators for the ice cream, beverage and fast-food sections of a gas station's limited retail space, with numerous branding opportunities that can be exploited.
例如,织物旗帜、横幅、动态宣传图形显示器都可以用于在百货商店中构建主题区域,作为一个额外的好处,它们在很大程度上是可重复使用的。刚性板也可用于半永久性的展示平台,如一个加油站内,就有景墙标识分隔出零售的冰淇淋、饮料和快餐区,还可以展示其实品牌的宣传标识。
Current market trends are dictating shorter runs, more customized versioning and faster turnarounds. These are all characteristics that make digital wide-format printing an attractive method of production. The key for success is for signmakers to understand their target markets, including their customers' buying habits and priorities.&