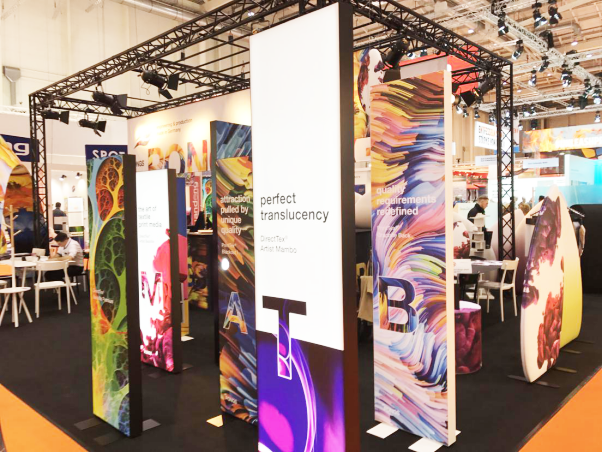 MIMAKI AT FULL THROTTLE
MIMAKI绽放新力量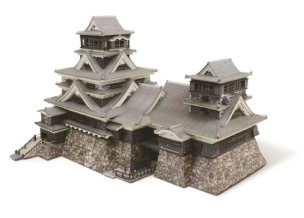 Mimaki will have its biggest presence ever at FESPA 2017 with two stands totalling 534 square metres. Mimaki Europe will be located in the Digital Hall (Stand A25, Hall A1), where it will be demonstrating a wide range of solutions for the sign, display graphics and industrial print sectors, along with a technology demonstration of its unique 3D printing solution.
在这次2017德国FESPA展会中,Mimaki公司拥有两个展位,这两个展位加在一起,共534平方米,构成了本次展会中最大的展台。Mimaki公司的其中一个展位在A25展厅A1展台,在展位上,他们展示了各种符号、显示图形和印刷行业的解决方案,为现场的观众呈现了独特的3D打印解决方案和新技术。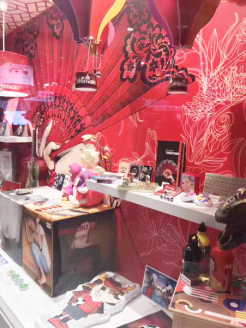 The company will also have a presence in the Textile Hall (Stand -C50, Hall B6), where visitors will be able to see demonstrations of Mimaki 's latest range of textile printers, including the recently introduced dual-ink Tx300P-1800 and the high-speed direct-to-textile Tiger-1800B, both of which have been updated to simultaneously load both textile pigment and sublimation dye inks, thus enabling the use of a single printer to output directly to a wide range of textiles, without the need to change ink systems. For high-volume production requirements, the Tiger-1800B has a maximum printing speed of 390 square metres per hour.
另外,该公司在B6展厅C50的另一个展位上,展出了Mimaki公司的一系列纺织品打印机,包括最近推出的双油墨Tx300P-1800打印机和高速直接纺织Tiger-1800B打印机,这两款产品都是在原有品牌上改良而来的,可以同时加载纺织品颜料和升华染料油墨,从而使单一打印机直接输出各种纺织品,在整个过程中不需要变动墨水系统。应对大批量生产要求,产品Tiger-1800B的打印速度达到了390平方米/小时。
In the Digital Hall, Mimaki will be showing four solvent printers and up to six UV printers, together with two cutting solutions,while also introducing a prototype of its 3D printing solution, a UV-curable four-colour printer that will be able to generate products featuring more than 10 million colour combinations.Mimaki's printer and ink technologies facilitate high-quality 3D printing that can create fine, precise and incredibly detailed products, such as the intricate scale model of a castle and a traditional Japanese doll that will be shown on the stand. Another unique feature of this printer is its clear ink that can be combined with coloured ink to create half colour transparent models.
Mimaki公司的打印机和墨水技术促进了高品质的3D打印,可以创建精细、精确和令人难以置信的产品。位于数字厅的展位上,Mimaki公司展出了四款溶剂型打印机、六台UV打印机,以及两种切割解决方案。与此同时,公司还引入了3D打印解决方案的原型——一种带有四色的UV固化打印机,这款机器能够生成超过1000万种颜色组合的产品,它的一个独特之处在于墨水可与彩色墨水相融合。
In addition, Mimaki will also be showing its JFX200-2531 production flatbed printer, with its larger table, for the first time inmainland Europe.
此外,Mimaki公司还展示了一款JFX200-2531平板打印机,这款机器拥有较大的操作平台,这也是首次在欧洲内陆地区展示这款新产品。
On Stand E20, Hall B7, Roland will be showcasing products from across its extensive portfolio, including digital wide format printers, cutters and integrated print & cut devices, UV-LED flatbed printers, dye-sublimation solutions, and more.
在B7展厅E20展位上,Roland公司展示了一系列组合产品,包括数字宽幅打印机、切割机和集成打印切割设备、UV-LED平板打印机,以及染料升华解决方案等。
Launched in March, CAMM-1 GR cutters boast the fastest throughput in their class, delivering up to 1,485mm per second, backed by up to 600g of downforce. Performance-enhancing features include an intuitive overcut function that emulates tangential cutting to deliver sharp, clean corners on challenging media and a dual position cutting carriage for standard and perforated cutting, which is ideal for die-cut decals.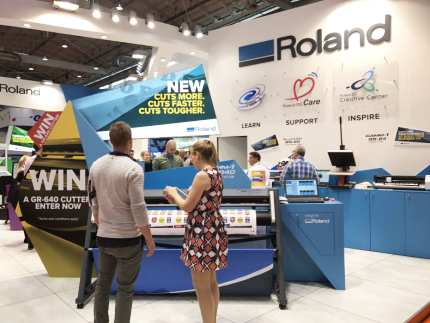 3月份推出的CAMM-1 GR切割机,在同类产品中,它的吞吐量最快,每秒可提供高达1485毫秒的下降力;在产品性能方面,这款产品的切割功能、可模拟切向切割功能都很强大。此外,它还能在介质上提供锋利、干净的拐角,用于标准切割和穿孔切割的双位置切割托架上。
Roland will also be showcasing its TrueVIS next-generation integrated print & cut range, including the latest addition to the TrueVIS family, the SG series. The TrueVIS range delivers the highest levels of printquality in terms of vibrancy, colour gamut and intricate detail, all of which will be demonstrated on the stand.
Roland公司还展示了TrueVIS下一代集成打印和切割范围的产品,包括TrueVIS系列和SG系列的最新产品。TrueVIS系列在活力、色域和复杂的细节方面能提供最高水平的印刷质量。在展会现场,通过产品的演示,观众能看到这些产品的所有性能。
Other attractions will include Roland's innovative instant personalisation solutions, such asthe VersaUV range of UV-LED flatbed printers, which print directly onto virtually any object or substrate and include a customer-friendly software interface. Visitors will have the chance to try out this dynamic technology for themselves and take home a unique personalised memento.
其他方面的展示还包括Roland公司创新的即时个性化解决方案,如VersaUV系列UV-LED平板打印机,可以直接打印到任何物体或基板上,包含一个友好的客户软件界面,客户将有机会尝试这种动态技术。
EPSON SHOWCASES FASHION, GARMENTS AND DÉCOR
EPSON公司打造个性化服饰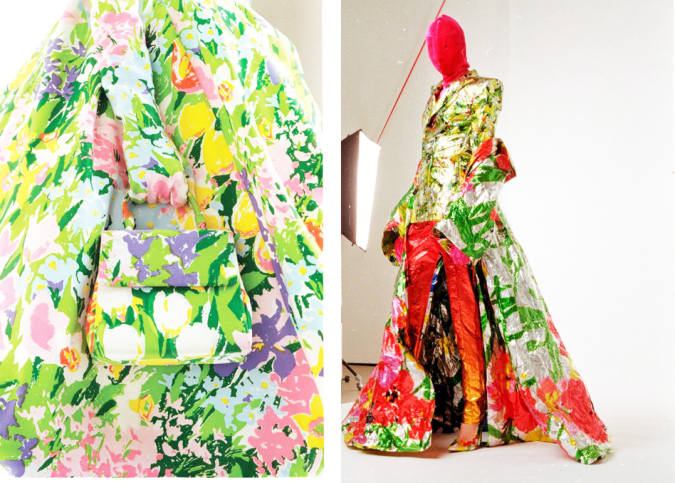 Epson has teamed with fashion and décor designers to showcase the quality and potential of its SureColor dye sublimation and direct to garment (DTG) digital printers on Stand D45, Hall A1.
近来,EPSON公司与时尚设计师合作,在A1展厅D45展位上展示了服装数码打印机,展现了SureColor染料的质量和市场潜力。
The stand's fashion space will showcase beautiful haute couturewomenswear designed by Richard Quinn and printed by him onto fabric and Mylar foil using an Epson SureColor SC-F dye-sublimation printer. Since he graduated from Central St Martins, London, last year, Richard has won the international 2017 H&M Design Award, is one of Dazed Magazine's 'Dazed100' cultural influencers in 2017, and has just been named the British Fashion Council's 'One to Watch' in 2017. He is currently setting up his own digital/screen print studio using Epson technology in London, where he will design, print and make his collections on site, as well as running digital print workshops for new designers.
EPSON公司特意在展台上做了很多精美时尚的装饰,以配合展示由Richard Quinn设计的高级定制外套,并使用爱普生SureColor SC-F染色升华打印机将其印在了面料上。这位设计师Richard Quinn,在去年从伦敦中央圣马丁大学毕业后,就获得了国际风雨设计大奖,并且还被英国时尚事务委员会,评为了Dazed杂志"Dazed100"文化影响人物之一。目前,他在伦敦创立了自己的数字印刷工作室,结合爱普生技术,他在展会现场展示了他设计的藏品,并举办了数字印刷研讨会。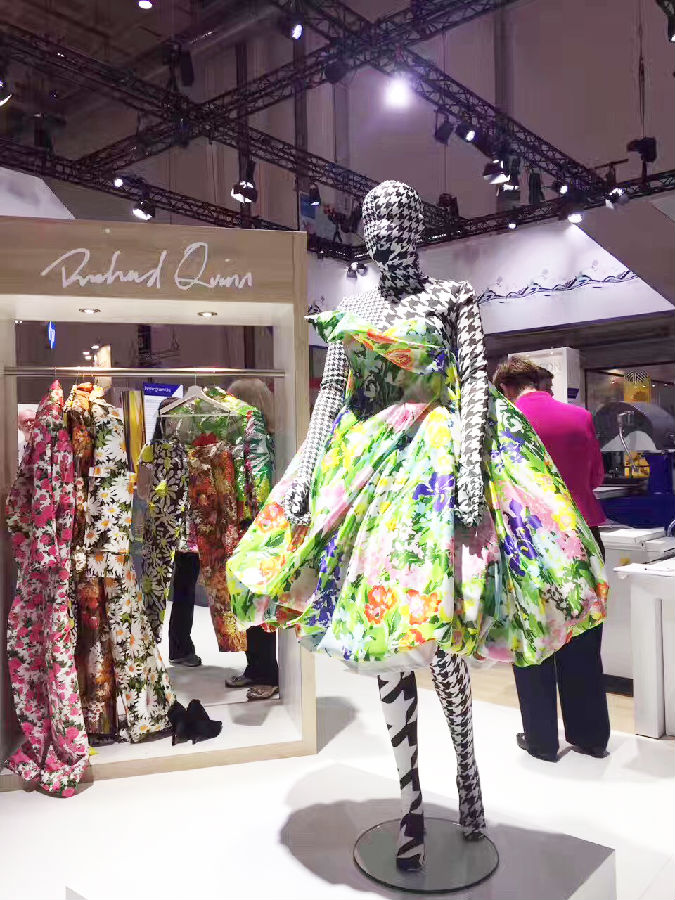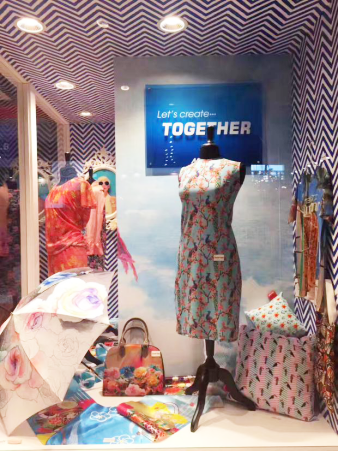 The Epson garment space will feature innovative touchscreens developed by YRStore, which allow customers to create their own designs for T-shirts, polo shirts, sweat shirts, hats and more. In this area, visitors will see samples of T-shirts featuring beautiful designs produced by Richard Quinn and French T-Shirt specialist Ranitex, and the SureColor SC-F2000 DTG printer will be in action demonstrating why this desktop model is so popular with garment producers and retailers.
EPSON公司在服装领域采用了由YRStore开发的创新触摸屏,可以让客户自己来创造他们想要的T恤、polo衫、汗衫、帽子的样式。此外,通过SureColor SC-F2000 DTG打印机的呈现,观众还可以看到由Richard Quinn和法国T恤专家Ranitex生产的T恤衫样式,这款新产品受到了很多服装生产者和零售商的喜爱。
THE MAGIC OF INCA
INCA公司打造的魔法世界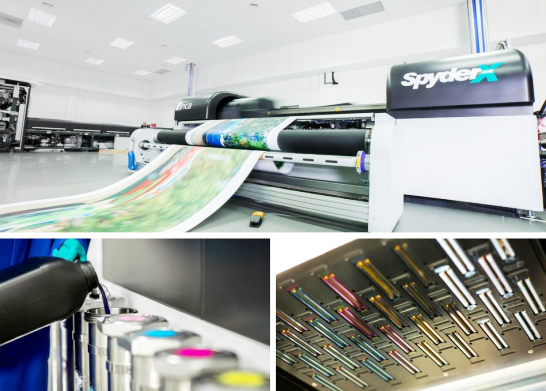 Inca Digital will be exhibiting at FESPA for the first time in its own right, on Stand D51, Hall A4, with the exhibition providing the company with the perfect platform to showcase a range of new products and technologies.
Inca数码公司首次参加德国FESPA展,在A4展厅D51展台上,展示了公司各种新产品和最新技术。
It will be showing on a themed stand that will illustrate the full scope of its inkjet innovations and will also feature a renowned magician, who will be demonstrating the magic of Inca through the use of bespoke illusions and performances.
该公司在展位上设计了一个魔法主题,观众在展台上可以看到一个魔术设计师,他会通过表演的方式来为所有现场观众呈现Inca公司打造的全新产品。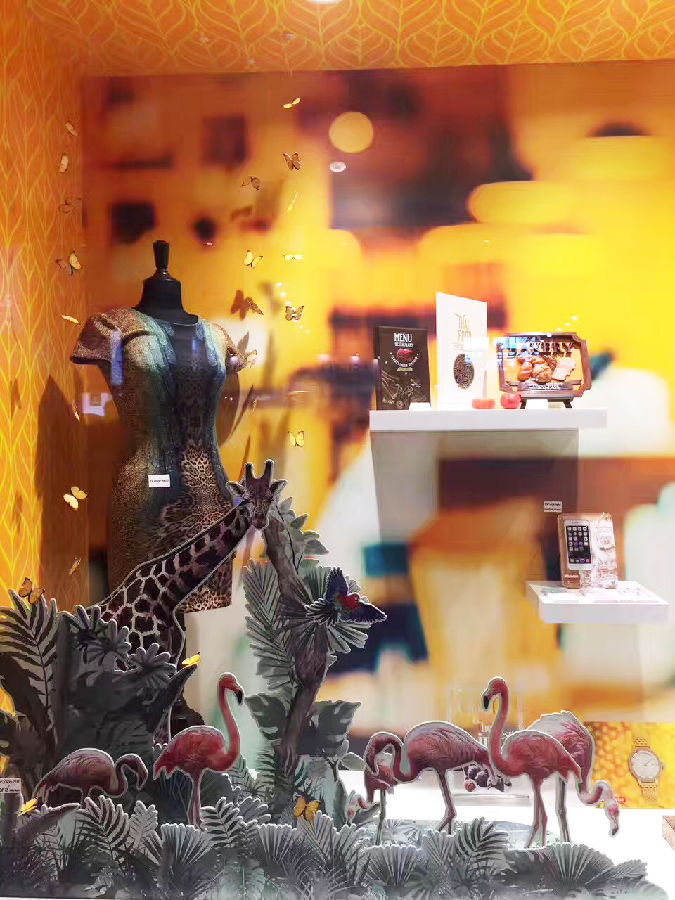 Taking centre stage on the stand will be the latest version of the SpyderX, a flatbed machine that offers the added functionality of roll-to-roll printing, which will be shown printing onto a range of substrates. Launched in 2016, the SpyderX has been developed to meet the increasing market demand for a cost-effective mid-range printer that is capable of delivering the highest quality prints on a wide variety of substrates. Also on show will be Inca's new IncaConnect software suite that was developed in response to the need for greater visibility and management of the workflow process for the Onset and Spyder machines.
位于该展台中心的位置展现的是最新版本的平板机SpyderX,这款平板机能提供卷对卷印刷的附加功能,能在一系列基板上直接进行印刷。为满足日益增长的市场需求,公司已经在2016年开发了这款产品,能够在各种基材上提供最高质量的印刷品,是一款最佳实现成本效益的中档打印机。此外,在展会上,该公司还展示了一款新的IncaConnect软件套件,这款产品是为了更好地了解和管理Onset和Spyder机器的工作流程而开发的。
Other stand attractions will include Inca Genius, Inca's service for the industrial market, via a showcase and demonstration videos.
另外,该公司通过视频演示诠释了他们在市场上的服务和理念。
COLORJET DEBUTS THE SOFTJET
首次登台的新产品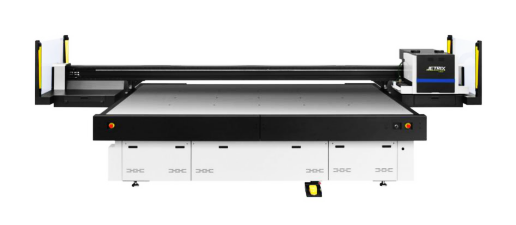 ColorJet India, India's largest manufacturer of wide format inkjet printers, will be showcasing the Softjet digital printer on Stand G62, Hall B5.
印度最大的宽幅喷墨打印机制造商ColorJet India在B5展厅G62展位上展示了一款Softjet数字打印机。
A further addition to its range of machines designed to product soft signage applications, the Softjet uses environmentally friendly inks to print directly on to polyester based fabrics that can be used to provide banners, flags, hoardings and flexible and backlit displays.Available in both 2.5 and 3.2 metre print widths to accommodate a wide variety of different applications, the Softjet has already been successfully installed in several countries across the world.
这款产品Softjet已经成功的安装在好几个国家了,并且非常受客户欢迎。它可以采用环保油墨直接在聚酯基织物上进行打印,一般用于横幅、旗帜、以及背光显示器上,可提供2.5到3.2米的打印宽度。
The printer comes complete with a proprietary AIVC technology that ensures consistent print performance by maintaining constant jetting conditions in varying environmental conditions, and also features an automated feed and take-up system, to facilitate long, unattended print runs.
此外,该打印机还配有专门的AIVC技术,在不同的环境条件下,都能保持恒定的喷射状态,确保一致的打印性能,并且还具有自动进纸和收纸系统,以便长时间在没有操作人员的情况下,还能保持运行状态。
INKTEC GETS INTO THE ZONE
兴起的INKTEC公司
InkTec will be using the opportunity of the show to debut itsJETRIX LXi8 LED-UV flatbed printer for the first time in mainland Europe.
InkTec公司利用这次展会的机会,首次在欧洲亮相了一款JETRIX LXi8 LED-UV平板打印机。
Visitors to Stand C20, Hall B5 will be able to se the LXi8, which is designed for the production of short-term outdoor signage, window graphics, inerior décor and industrial applications, running at top production speeds of over 205sqm per hour, while at the same time, delivering optimal printing results with InkTec's latest generation LED-UV ink.
在B5展厅C20展位上,观众看到的这款LXi8平板打印机是专门为生产短期室外标牌、窗口图形、后装饰和工业应用而设计的,它以每小时超过205平方米的生产速度运行,同时,与InkTec最新一代LED-UV墨水配合使用能产生最佳的打印效果。
In addition, InkTec will be using three special zones to highlight its latest innovations in inks and media.The Solvent Zone will feature EcoNova Aurora and EcoNova Maple, InkTec's latest premium eco solvent inks for use with Roland and Mimaki plotters equipped with DX7 printheads.
此外,InkTec公司将展位划定了三个特别区域来展示最新的油墨产品和新技术。在第一个区域内,是InkTec公司最新推出的优质环保溶剂油墨,这种油墨一般与DX7打印头的Roland和Mimaki绘图仪一起使用。
They offer a wide colour gamut, plus excellent scratch and alcohol resistance. In the Sublimation Zone, InkTec will showcase its anti-aggregation technology, which ensures particle stability and an enhanced printing performance, while the Media Zone will feature Inktec's latest media, including a new HP latex compatible material available in a choice of satin and gloss finishes.
这种油墨不仅有广泛的色域,还具有优异的耐刮擦和耐酒精性。在第二个区域内,InkTec公司展示了一种抗聚集技术,这种技术能有效地确保打印出来的颗粒饱满,还能增强打印各方面性能。在第三个区域内,该公司展示了一种Inktec新介质,包括新的HP胶乳相容材料