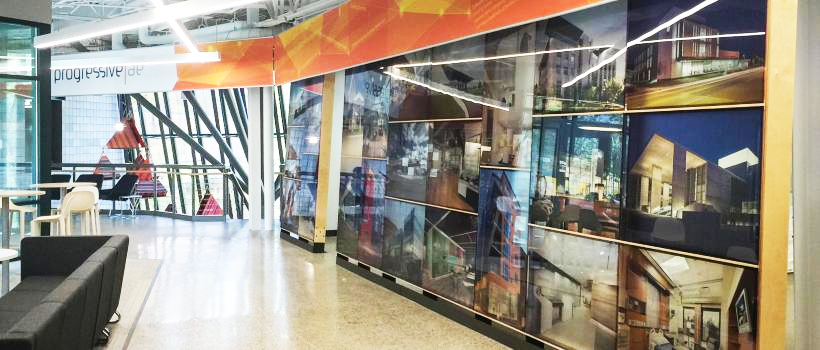 Over the past decade, breakthroughs in flatbed technology have allowed output providers to print photo-quality color images, logos, graphics and text onto glass for out-of-the box, distinctive applications on windows, mirrors, bottles and other objects. Printing on glass offers a unique opportunity to transfer a design or image into a surface that can act as a decoration or for advertising or branding. Glass printing can also be used for signage as well. Clear or frosted transparent signs offer a sleek, contemporary alternative to the normal indoor or outdoor signage solutions.
在过去的十年中,由于平板技术的突破,使得对外供应商能够在类似于窗口、镜子、瓶子等玻璃对象上打印出高质量的彩色图像、标识和文字。将设计或图像打印在玻璃上,成为了另一种装饰或展现品牌的独特机会。当然,玻璃喷墨技术也可用于标牌制作,清晰透明的磨砂标识为室内或室外标牌解决方案提供了时尚的选择。
Using a flatbed UV-cure digital printer to decorate glass can be a little tricky, however. Still, the results are worth the extra effort and care. We reached out to some equipment suppliers and end users and asked them to look at some of the hot trends in glass printing. We will also touch on the printing process itself with tips and advice for printing onto glass surfaces.
然而,使用UV平板固化数字打印机来打印玻璃可能有点棘手,需要一些额外的注意。我们接触了一些设备供应商和终端客户,我们向客户介绍了整个打印流程,并和他们一起分析了玻璃喷墨技术在标识行业的发展趋势,他们也提出了一些怎样更好地提升玻璃喷墨技术的建议。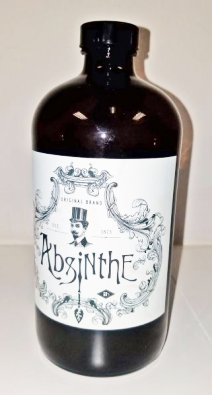 What's Trending
未来的趋势
According to Deborah Hutcheson, director of marketing at Agfa Graphics, Elmwood Park, New Jersey, UV inkjet printing is taking off in the area of décor applications for the architectural and design market. "This market is realizing the benefits of UV printing, such as high quality output, fast turnaround and customization. As a global leader in UV-curable inks, Agfa Graphics has an expertise in the sign and display market; as well as the industrial inkjet market where glass printing is being integrated into the manufacturing process of producing branded beverage bottles, for example. Here we work with systems integrators to design, develop and manufacture inkjet inks and fluids for industrial production," she explains.
据新泽西州Agfa Graphics公司营销总监Deborah Hutcheson介绍:"UV喷墨打印在建筑和设计市场的装饰应用领域正在迅速发展,这个市场已经意识到了UV打印的优势,如高品质的产量、快速的周转和定制等。"作为UV固化油墨的全球领导者,Agfa Graphics公司在标识和图形打印方面具有专业知识,例如,他们能将玻璃喷墨技术整合到生产品牌饮料瓶的制造过程中,此外,他们与系统集成商合作,为工业生产设计、开发和制造油墨和流体。
"Some examples of glass applications for UV inkjet include printed mirrors and glass signage, decorative indoor glass wall panels, shower doors, furniture glass, cabinet glass and kitchen backsplashes," she adds.
她补充道:"应用玻璃喷墨技术的例子有很多,包括印刷镜、玻璃标牌,装饰室内的玻璃墙板、淋浴门、玻璃家具,玻璃橱柜和厨房后挡板等。"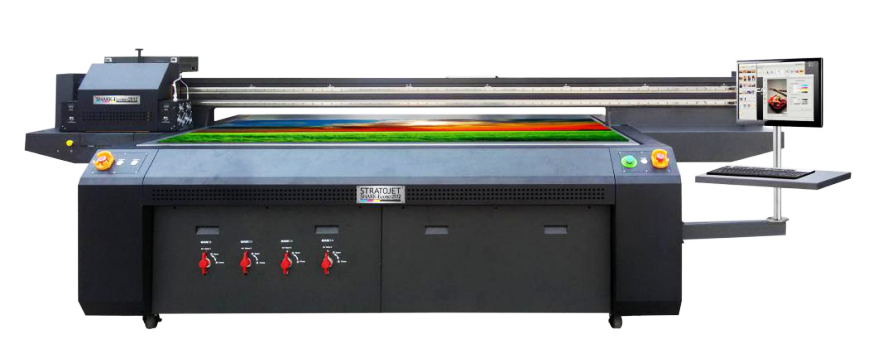 Colorful Apps
丰富的应用解决方案
"According to our clients, one of the most popular uses for glass printing today is for high-end, high-quality color applications," says Shael Sacks, vice president of NGI Designer Glass, a firm specializing in glass decoration in Concord, Ontario, Canada. "From our standpoint, printing on glass has provided a unique way to give a sleek premium look to graphics. The biggest trend in glass printing right now is in indoor architectural applications. We work with designers, architects and creative people across the country to transform standard signs and other branding vehicles into stunning decorative glass panels."
根据我们客户的喜好,现在玻璃打印成为了打造高端内饰最受欢迎的方式之一。位于安大略省康科德的玻璃装饰公司NGI Designer Glass副总裁Shael Sacks说道:"在我们看来,玻璃喷墨技术以一种优雅独特的方式来呈现了图形的外观。目前,玻璃喷墨的最大趋势是室内建筑应用,我们与全国各地的设计师、建筑师和创意人在进行合作,将制作惊艳的装饰玻璃面板。"
Sacks adds that based on what NGI now handles, the current most popular applications that clients are requesting include high-end decorative wall panels, backsplashes and partition walls.
Sack补充说:"目前最受欢迎的应用程序包括高端装饰墙板、后挡板和隔墙。"
Glass Growth in North America
玻璃喷墨技术在北美非常受欢迎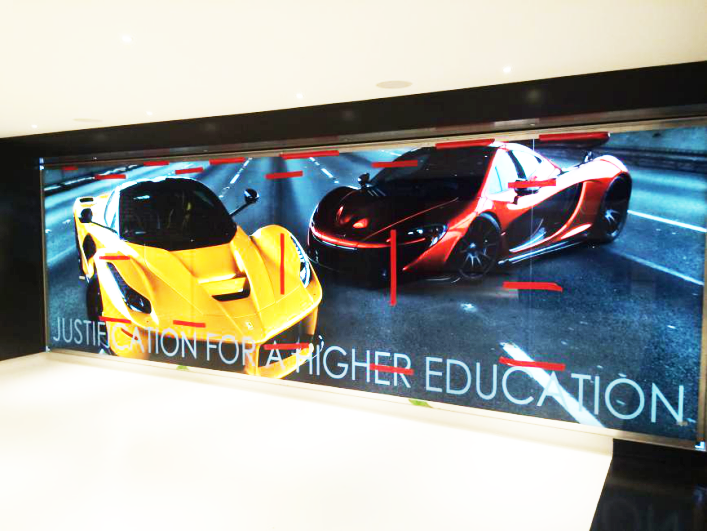 Using flatbeds to print on glass is very big in Europe but is showing signs of catching on more vigorously in North America as well. One output provider that is seeing an uptick in this sector is Agio Imaging, a wide-format printing firm in Kalamazoo, Michigan. "We have been in this market for about eight years and we are seeing some nice increases of late. Glass printing is a growing niche market for us," says Davina Logan, Agio's director of sales, marketing and administration. "Most of the work we are doing in this area is with high-end interiors. Using our processes, we are able to create products that are elegant, durable and green. Glass also provides a more stylish look over using acrylics.
欧洲已经广泛的在使用玻璃喷墨技术了,令我们惊讶的是,玻璃喷墨技术在北美更受欢迎。 Agio Imaging是密西根州卡拉马祖的一家宽幅打印刷公司,公司的营销总监Davina Logan说:"我们在这个市场已经做了八年了,我们看到玻璃喷墨是我们日益增长的利基市场,在这方面做的大部分工作都是利用玻璃喷墨技术来打造高端内饰,创造出优雅、耐用和绿色的产品,并且玻璃也能表现更加时尚的外观。
Personalized Applications
个性化应用解决方案
Heather Roden, product marketing manager, Fujifilm North America Corp., Graphic Systems Division, Hanover Park, Illinois, says that this area is becoming highly personalized in the products that can be created. "Popular applications include awards, tiles, shower enclosures, office partitions among other decorative applications. These are especially popular given this growing demand for customization and personalization."
位于伊利诺伊州汉诺威,Fujifilm公司产品营销经理Heather Roden表示:"玻璃喷墨技术可以创造出高度个性化标识,包括瓷砖、淋浴房、办公室区等室内装饰应用。鉴于这种日益增长的定制个性化需求,玻璃喷墨技术变得特别受欢迎。"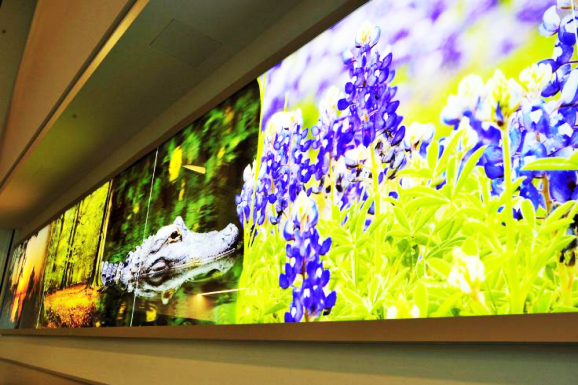 Second-Surface Printing
第二表面印刷
Josh Hope, senior manager, Industrial Printing Business Development & Marketing at Mimaki USA, Suwanee, Georgia, believes that second-surface printing on glass is very popular for a higher end premium product look and feel. "Second-surface printing is the practice of printing onto the backside of a transparent material where the printed artwork is viewed through the substrate itself. This is something that had been seen in advertising and P.O.P. applications, but it is now becoming more common in consumer photo and home décor applications." He adds that personal photographs and artwork, POP displays and interior décor are all very popular right now.
来自佐治亚州Suwanee公司,业务开发与市场部高级经理Josh Hope认为:"在玻璃的第二层进行印刷出来的产品,效果非常精美,给人一种高端的感觉。第二表面印刷是印在透明材料的背面,通过基材本身来显示印刷图案。以前这种技术用于广告和P.O.P.应用程序中,现在,在消费者照片和家居装饰应用中应用得越来越普遍。此外,个人照片和艺术品,POP显示屏和室内装饰都是用了这种技术。
"With the Mimaki Kebab MkII option for the UJF MkII Series and UJF-7151 plus printers, users can also print directly onto cylindrical glass objects such as wine bottles, beverage glasses, and vases," Hope says.
Josh Hope说:"使用UJF MkII系列和UJF-7151 plus打印机的Mimaki Kebab MkII选件,用户还可以直接在圆柱形玻璃物体上进行打印,如酒瓶、饮料杯和花瓶。"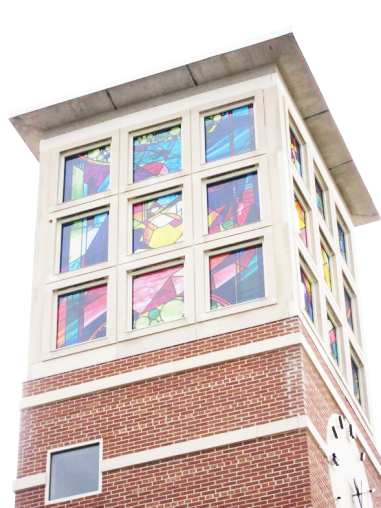 Techniques for Printing onto Glass
玻璃喷墨技术
Joe Garcia, managing director at StratoJet USA, Santa Fe Springs, California, says there are some specific techniques used for printing successfully onto glass with a UV-curing printer that need to be followed. "Printing on glass is one of the most visually stunning media," Garcia says. "When you print on the reverse side, the printed image bonded in glass gives a more luxurious look."
来自美国加州Santa Fe Springs公司的总经理Joe Garcia说:"有一些技术在使用时,需要遵循UV固化打印机的原理,才能成功地打印在玻璃上。在玻璃上打印非常具有视觉震撼力,而在背面打印时,印在玻璃上的图像会显得更加奢华。"
Garcia continues, "To achieve this for a reverse print, choose the desired effect using white ink. Then, choose spot white for a combination of translucent view-thru application, such as an office divider or choose to overcoat with white for a museum display. For an even more stunning look on a thicker glass, you can print CMYK, then overcoat white turn the glass around and complement the print with a small detail. This will give a 3D look to the final print," he points out.
Garcia继续说道:"要实现这一点,可以使用白色墨水来达到所需效果,然后,选择一个白色的透明组合应用程序。此外,在更厚的玻璃上采用四分色进行打印,然后转动玻璃,并在小细节上做特别的处理,最终形成的打印3D图的效果将会更令人惊叹。
Garcia adds that it is possible to print UV successfully onto glass without coating the glass first. "Customers can print on one side only and the ink will adhere, however, because glass is expensive and it is difficult to handle; customers want the maximum possible adhesion and scratch resistance, hence nearly always an ink adhesion promoter is applied before the print."
客户想要产品实现最大可能的粘合性和耐擦伤性,在印刷前会先涂上油墨粘合促进剂。而现在,我们可以使用UV喷墨技术成功地印刷到玻璃上,而不必先涂覆玻璃了。但要注意的是,客户只能在玻璃的一面进行打印,因为玻璃成本贵,墨水会粘附,难以处理。