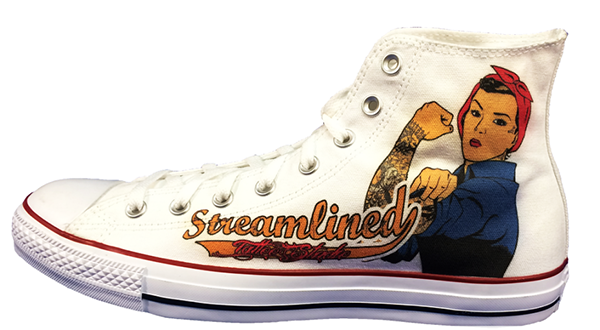 Sign shops looking for an additional source of revenue should consider entering the lucrative direct-to-garment printing market.
一个标识商店要考虑寻找额外收入来源的话,进入服装打印市场绝对是有利可图的。
It isn't much of a leap from what they are already doing in the digital printing market and it is one more way shop owners can market to their current clients, says Paul Crocker, director of marketing for AnaJet in Tustin, California.
加利福尼亚州Tustin AnaJet营销总监Paul Crocker说:"服装打印市场与数字打印市场做的工作并没有太大的跨越,而且标识商店店主也可以向之前的客户销售这一业务。"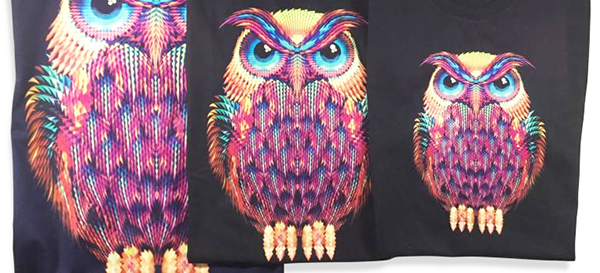 Customers wanting to better promote their brand will often ask sign shops if they also offer printed T-shirts and other garments.
而客户想要更好地推广他们自己的品牌,往往也会问标识商店,是否能为他们提供精美的打印服装。
"Sign shop owners are getting tired of sending out that revenue to their partners so they would rather keep that revenue in-house and take the profit on that," Crocker says. "It is a natural, automatic customer base. They can take advantage of that."
Paul Crocker说:"标识商店店主很乐意向合作伙伴分享红利,他们喜欢有这种内部收入。因此,标识商店可以向客户提供多种方案的服务,因为客户群的灵活性很强,能为他们带来额外的收入。"
From a technology standpoint, it is "typically a fairly short learning curve for them. A lot of their equipment already uses inkjet technology. They are familiar with inkjet technology," he says.
从技术的角度来看,标识商店要做服装打印的业务通常是一个相当短的学习曲线,他们很多设备已经使用了喷墨技术,同时他们对喷墨技术已经相当熟悉了。
Mark Bagley, director of marketing for the industrial products division of Brother International Corp. in Bridgewater, New Jersey, says that the technology used in DTG is very similar to what sign shops already use. The biggest difference is in the inks. Most DTG printers use water-based inks instead of UV or solvent inks.
新泽西州布里奇沃特国际公司产品部营销总监Mark Bagley表示:"服装数码打印技术与很多打印技术都相似,最大的区别在于油墨的使用,大多数服装数码打印机使用的是水性油墨来代替UV或溶剂油墨。"
When trying to determine which shops would be a good fit for DTG, Bagley says he focuses on which ones already work with artwork on a daily basis or sell apparel.
Mark Bagley表示:"当确定哪些标识商店适合使用服装数码打印机时,他将专注于在那些适合的标识商店里工作或销售服装。"
Many shops don't want to get into screen printing "because of the space it requires, so they start looking at different decorating techniques or use a contract printer," he says. "DTG printers use one or more print heads. We keep the printer in a controlled environment – temperature and humidity – like a digital sign printer does with its printers."
许多标识商店不想做丝网印刷,因为需要很多条件,他们认为服装数码打印最符合市场需求,所以他们开始掌握不同的装饰技术。服装数码打印机使用一个或多个打印头,将打印机保持在受控的环境中,如数字标牌打印机或其打印机一样,保持一致的温度和湿度。
Bagley adds that sign companies tend to be more proficient with artwork and "the better the graphic is, the better the shirt is going to look." They also tend to be more creative and are willing to explore and do things a little bit new or different.
Mark Bagley补充说:"标识公司往往更精通艺术品制作,图形做的越好,服装打印的也会越时尚,此外,他们也喜欢创意,愿意探索和做一些不同的新鲜事物。"
"They will take a more fashion edge approach to stuff that creates a new product that is out there," he adds.
他还补充说:"他们将采取更加时尚的方式来创造一种新产品。"
Mark Stephenson, director of marketing for ColDesi in Tampa, Florida, says that sign and digital practitioners are in the perfect position to expand into custom apparel. His company produces a Custom Apparel Startups podcast that talks about lateral marketing. How to get your big pool of existing sign and trade show customers to purchase something branded from you, like t-shirts or ball caps.
为此,数字标牌从业人员扩展了定制服装的完美位置,公司创建了一个关于侧向营销的定制服装创业播客,可以让客户在现有标识和交易平台上购买一些品牌的东西,如T恤或球帽。
"There's a lot of things you can do with today's DTG printers that would feel very familiar to them as well. You're using a RIP (raster image processor) software like what they use for sign equipment, preparing a substrate, T-shirt, like they do in the sign industry. There are lots of parallels. It is a great fit and it is really profitable," Stephenson says.
Stephenson说:"今天的服装数码打印机可以做很多的事情。用于标牌设备的那些软件,如光栅图像处理器软件,像在标识行业其他设备一样,使用方面有很多相似之处,它能帮助企业进一步扩展业务,非常有利可图。"
ColDesi loves to educate new customers about the versatility of its DTG printers. It has more than 700 videos on custom apparel and it is launching a new website that will make it even more user-friendly. The company also offers weekly webinars; about every third one deals with direct to garment printing.
一家ColDesi公司喜欢给新客户展示服装数码打印机的多功能性。公司正在推出一个新的网站,网站上面承载着超过700个定制服装视频。此外,该公司每周还会举办网路研讨会。
Once someone signs on as a customer, ColDesi offers in-house training or live online training sessions. It also offers weekly tech talks.
一旦有人以客户身份登录网站,ColDesi公司就能随时提供内部培训或在线培训,以及提供技术会谈。
"We do as much as possible to make people successful," Stephenson says. "We're in a unique position because we don't just sell the DTG printers. We sell commercial embroidery machines and two kinds of bling machines, and our sister company sells Graphtec cutters and vinyl and cap heat presses."
Stephenson说:"我们尽可能地为企业实现利润最大化。我们扮演着很重要的角色,不仅仅在出售服装数码打印机,还出售商业绣花机和两种折弯机,我们的子公司也在出售Graphtec切割机。"
Its Custom Apparel Startups podcast has more than 5,000 followers who are getting started in custom apparel. They talk to each other and the podcast tackles topics like how to do marketing, search engine optimization and many other business topics.
在创业博客开通后,超过5000位追随者在看了视频后,开始定制服装。此外,在创业博客上,客户之间还能相互交谈,解决了如何营销、优化搜索引擎和其业务话题。
"From a fitting into their shop standpoint, DTG printers are a relatively small footprint compared to wide-format printers. It doesn't take up a lot of space in the shop and creates a lot of revenue for a small space," Crocker adds.
从适合商店的角度来看,与宽幅打印机相比,服装数码打印机的占地面积相对较小。虽然服装数码打印设备在标识商店中占用的空间较小,但为标识商店创造了大量的收入。
AnaJet's mPower mP10i DTG printer is fast, easy to use, reliable and offers industrial performance. It can produce a white T-shirt in 20 seconds and a dark shirt in about 40 seconds, Crocker says. From a return on investment standpoint, a company can produce shirts around $5 apiece and sell them for $10 to $20 each.
AnaJet公司的mPower mP10i DTG打印机速度快、易用、稳定性和其他性能都很强。 Crocker说:"这款打印机可以在20秒内生产一件白色T恤,40秒就可以生产一件深色衬衫。从投资回报的角度来看,一家公司可以生产约5美元的衬衫,并以10至20美元的价格出售,这种回报率已经是相当高的了。
AnaJet was acquired by Ricoh last year. All of its printers use Ricoh industrial-grade printheads, which means they are more durable and longer lasting for industrial shops, he says.
去年,AnaJet公司被 Ricoh公司收购,所有打印机都开始使用Ricoh公司的工业级打印头,这意味着它们更加依赖于工业店铺。
Since the acquisition, Ricoh "poured their engineering resources into AnaJet. They have their engineers working round the clock on our machine. The outcome is that about six months ago, they overhauled the plumbing systems within our printer, which dramatically improves the stability of our machine and its ability to go for longer periods of use," Crocker says.
Crocker说:"自收购以来,Ricoh公司将工程资源投入到AnaJet公司,他们的工程师在机器上全天候工作,大约半年前,他们对打印机中的管道系统进行了大整改,整改后大大提高了机器的稳定性,可以进行长时间进行工作了。"
ColDesi is launching a new DTG printer called the M6 that will have "an incredibly large print field compared to what we do now and it will be one-third again as big. One of the things that makes our printers unique is they can print on more than one shirt at a time," Stephenson says. Its M2 DTG printer can print two adult shirts at a time. The M6 will be able to print up to six adult t-shirts at a time.
近来,ColDesi公司推出了一款名为M6的新型服装数码打印机,与其他设备相比,这款打印机具有令人难以置信的大型打印领域,同时,它的重量也只有其他设备的三分之一而已。Stephenson说:"我们的打印机独一无二之处在于可以一次打印多件衬衫,别如,M2 DTG打印机一次可以打印两件成人衬衫,M6打印机一次能打印多达六件成人T恤。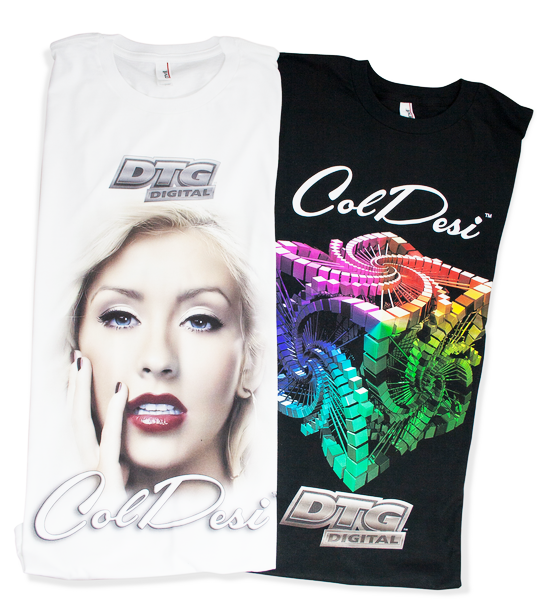 Brother considers its DTG machines industrial equipment.
此外,公司开始重视服装数码打印的工业设备。
"What makes Brother unique is the equipment inside the DTG printer," Bagley says. One key component is the printheads.
Bagley说:"是什么原因让Brother公司的服装数码打印设备非常具有竞争力,一个关键部件 —— 打印头。"
Brother's print heads are designed to print a crisp, clear design from a farther distance than other print heads designed to print on flatter items, like paper or banner material. By manufacturing the print heads to jet farther away from the substrate, Brother DTG users can print over hoodie pockets, seams and zippers easier. It also can easily print on ball caps and shoes.
Brother公司设计的打印头与其他打印头不同的是,在相距甚远的距离,也可以在纸张或横幅材料上打印出清晰高质量的图案。通过打印头远距离在基板进行喷射,Brother公司的用户可以更轻松地打印出帽子、口袋和拉链,也可以轻松地打印球帽和鞋子。
"We've had printers out in the market since 2005 and they are still running today because of how the printer is designed," Bagley says. "It is designed to be a workhorse. It may not be the flashiest printer out in the market but it is an industrial piece of equipment designed to work."
Bagley说:"自2005年以来,我们就已经在市场上销售服装数码打印机了,无论打印机的设计如何,它们一直都没有被淘汰,服装数码打印机可能不是市场上最闪光的打印机,但它是专为工作设计的工业设备。"
DTG printers aren't just for printing t-shirts. Some of AnaJet's customers have gotten fairly creative in what they can do on their printers. Several print on wood for signs to make rustic graphics. Another customer prints photographs on wood plaques. They can also be used to reproduce photographs on canvas for wall art. Others have even used the DTG printer to print on metals that have been treated with a receptive coating.
服装数码打印机不仅用于打印T恤,还能做出很多有创意的打印。例如,AnaJet公司的一些客户在木头上打印带有乡村图案的标识、在木板上打印照片、在帆布上再现壁画上的照片。更有创意的是,有人甚至使用服装数码打印机在已经被涂层处理过的金属上进行打印。
To get into the DTG market, shops just need a computer, a printer and a heat press or tunnel dryer. Most sign shops already have access to a heat press, so that's the most common purchase.
要进入服装数码市场,标识商店只需要一台电脑、一台打印机和一台热压机或隧道式干燥机。大多数标识商店已经开始使用热压机了,这是购买最常见的机器之一。
"The learning curve is easier for these guys because they already have the design skills in house too, so they know how to design a graphic for print," Crocker says.
Crocker说:"掌握服装数码打印很容易,因为他们已经拥有了内部的设计技能,所以他们只需要知道如何为打印设计一个精美图形就行了。"
Stephenson adds that shops that want to move heavily into custom apparel should consider buying a pretreat machine so they can print on different materials that don't accept ink as well as polyester blends.
Stephenson补充说:"想要大量进入定制服装的标识商店应该考虑购买一台预处理机,以便他们可以在不接受墨水和聚酯混合物的材料上也能进行打印。"
Most DTG printers are fairly small. Stephenson says that the smallest DTG printers are the size of a desk.
大多数服装数码打印机的体积相当小。Stephenson说:"最小的服装数码打印机跟桌子的大小差不多,预处理机跟烤箱的尺寸一样,但是,它们却能产生巨大的力量,为公司带来额外的收入。"